If you are wondering what gift to get a drone enthusiast, you have come to the right place. This is a quick cheat sheet to help you find the perfect holiday gift for a friend or family member who loves flying drones.
First, some advice.
You may want to do a bit of sleuthing before you buy any of these drones. Find out what the gift recipient needs or wants most without giving away your surprise. Perhaps they would love a new DJI camera drone or maybe they are looking for a professional drone to kick start their business.
You can ask someone close to them or just listen to them talk about drones and you might just find the perfect gift that will be of most value to them.
If you are not sure which drone to get, you can also just ask them to go shopping with you or give them a gift card so that they can buy exactly what they need. It will still be a nice surprise.
Best Camera Drone Gifts
Best Drone Gifts for Kids and Beginners
Drone Gifts for Professionals
Best Camera Drone Gifts
If they love aerial photography, get them a camera drone. It can be a cheaper model (for beginners) or a more full-featured camera drone (for those with some experience). Here are the best camera drones.
DJI Spark
Price: $499
Best gift for: Anyone who wants to get started with drone photography. It's a great starter aerial photography drone.
Main Features
1/2.3 inch CMOS sensor capable of shooting 1080p videos and 12MP images.
2-axis mechanical gimbal to reduce shaking and rolling.
Multiple shooting modes.
16 minutes max flight time.
FPV sport mode.
Safety features including flight tracking with camera and GPS, Return to Home and a restricted area warning system.
Launch from palm and gesture control.
DJI Mavic Pro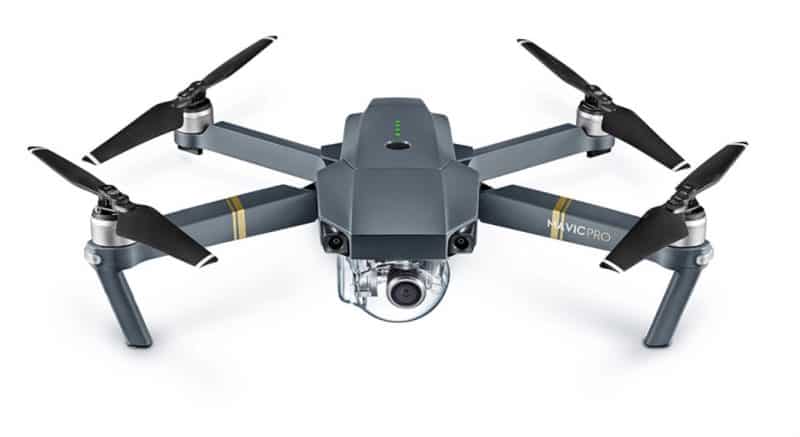 Price: $999
Best gift for: Someone who would love a beginner-friendly but feature-packed drone with a 4K camera.
Features
Powerful camera capable of shooting 4K 30fps video and 12MP stills.
DNG RAW support.
3-axis mechanical gimbal stabilization.
27 minutes flight time in sport mode, 21 minutes in normal mode.
Obstacle avoidance sensors.
Live streaming through the DJI GO 4 app.
Automated fly and shoot modes including Follow Me and Selfie.
3DR Solo Quadcopter 2.0
Price: $389
Best gift for: Someone who loves to tinker around with drones and prefers a customized setup. The 3DR Solo hardware and software can be customized to fit different applications. It's also great as an entry-level professional video camera.
Features
Designed to work with GoPro HERO3+ and HERO4 cameras (not included). Compatible gimbal sold separately.
Easy-to-use video game style controller with HDMI port (great for FPV flying).
Computer-assisted picture modes including Orbit, Follow Me, Cable Cam and Selfie.
Flight zone safety information.
Custom geofencing (through the companion app).
Return to Home function.
Best Kids and Beginner Drone Gifts
There are plenty of cheap but feature-packed drones that are great for kids and complete beginners. They are great for practicing with before moving on to more capable drones.
Note that the recommended minimum age for kids to fly drones is around 13 years. Most begginer drones specify a minimum age limit of 14 years.
Holy Stone F181W Wifi FPV Drone
Price: $120
Best gift for: Beginners who want to get started on aerial photography. With its 720p camera, the Holy Stone F181W is a great starting point for aspiring camera drone professionals.
Features
720P camera with a 120-degree field of view (no gimbal).
FPV live viewing through the companion app.
Altitude hold (hover) mode for easier photography.
Easy-to-use controller with headless mode for easier navigation.
Multiple skill levels.
Hubsan X4 H107D FPV Quadcopter
Price: $80
Best gift for: Kids 16 years and older. It's really easy to operate and comes with a decent 480P camera.
Features
480P camera with 6 axis gyro stabilization.
SD card to store images and videos.
FPV live viewing on the built-in LCD monitor on the controller.
Lightweight but sturdy construction.
30 minutes flight time.
Altair AA108 FPV Camera Drone

Price: $130
Best gift for: Beginners and kids (14 years and older). The Altair AA108 is easy to fly, hard to crush and plenty of fun.
Features
720P camera with a 120-degree field of view.
Live FPV viewing using your smartphone or VR goggles.
Headless mode for easy navigation when learning.
Hover mode for easier photography.
Emergency landing button.
20 minutes flight time.
Multiple skill levels.
Best Professional Drone Gifts
These drones are great gifts for professionals in fields such as photography, cinematography, real estate marketing, agricultural inspection and planning and utility construction among others.
DJI Inspire 2
Price: $2,999
Best gift for: Professional and aspiring filmmakers.
Features
Magnesium and aluminum shell with carbon fiber arms.
Dual battery with 27 minutes flight time.
Compatible with X4S and X5S cameras.
Support for CineCore 2.0 image processor with 5.2K video recording capability.
Obstacle avoiding sensors.
Multiple shooting modes plus automated object tracking mode.
Intelligent flight modes.
DJI Matrice 600 (M600) Pro
Price: $4,999
Best gift for: Professionals involved in aerial photography and industrial inspections.
Features
A3 Pro smart flight controller for maximum safety and performance.
Ready to fly with simple and quick setup.
Includes hardy transport/storage case.
Compatible with Zenmuse cameras and gimbals.
Enhanced battery management system.
5KM long range transmission (in unobstructed conditions)
Includes onboard and mobile SDK development.
DJI Phantom 4 PRO
Price: $1,499
Best gift for: Professional and hobbyist aerial photographers
Features
20-megapixel CMOS sensor with mechanical shutter.
Support for 4K 60fps and 4K 30fps videos.
Intelligent flight modes including ActiveTrack and Return to Home.
Gesture control for selfies.
7km (4.3 miles) range.
30 minutes flight time.
Obstacle avoidance sensors.