The news comes as a pleasant surprise to both recreational and commercial drone operators. It shows that the UAS ecosystem still has room for innovation.
The nine brokers are Falcon Insurance, Aviation Marine, Fields Group, InsureMyDrone (MFE Insurance), Harpenau Insurance, Aerial Pak (Hill & Usher), Plimsoll Specialty, Sky Smith and Skyvuze.
The insurance program is underwritten by Starr Insurance Companies, one of the biggest aviation insurers in America. It's also conveniently available through the Android and iOS apps, as well as the SkyWatch Web portal.
---
How it works
SkyWatch.AI markets itself as an on-demand drone insurance solution.
As opposed to traditional insurance that requires lots of paperwork and months of commitment, Skywatch.AI's coverage can last mere hours.
You only pay for the time you spend flying the drone.
Once downloaded, signing up or logging into your skywatch account is easy.
On the home screen, there's a blue circle over the map that represents the flight area. Its radius ranges from ⅛ to ½ a mile, with an option for drawing more precise flight zones.
The map also indicates high-risk zones such as major roads, schools, hospitals, and public utilities. The more you navigate towards these restricted zones, the higher your hourly payment is going to be.
---
Cost of insurance
To purchase drone insurance, you must set a flight zone. If you fly your UAV in the evening, you'll most likely receive a prompt informing you of higher nighttime charges.
This is only logical because sight is more impaired during darkness, which increases the chances of accidents happening.
The next option is choosing your liability limit, which ranges from $500,000 to $10 million.
Afterward, choose the number of hours your drone is going to be airborne. These two determine the final amount you pay in insurance charges. The base cost ranges from $10 to $25 per hour.
Once set, agree to the terms and conditions and your insurance policy will be ready for purchase. You'll also receive an email confirming the same.
For those who need long term insurance coverage, SkyWatch.AI also offers monthly plans. Unlike the hourly plans, the longer plans include full coverage.
This means you'll be compensated for accidental drone damage.
---
Skywatch.AI's main features
Seamless integration between its phone apps and web portal.
A mapping feature that's powered by Google Maps, making it extremely accurate.
Customized safety scores that determine savings rates depending on how careful pilots have been while flying their drones.
Incentives that make insurance more affordable the more hours one flies.
Skywatch.AI also has its very own fully functional flight app that is intuitive to use.
You might be tempted to use your drone manufacturer's custom app, but this alternative offers certain benefits.
It shows you the exact amount of time you have before the policy you've bought expires.
By keeping a log of your flight details, it also ensures you're eligible for future discounts. Just as car insurers do, Skywatch.AI gives discounts to policyholders with a history of safe flying.
---
More brokers Provide Wider Access to Insurance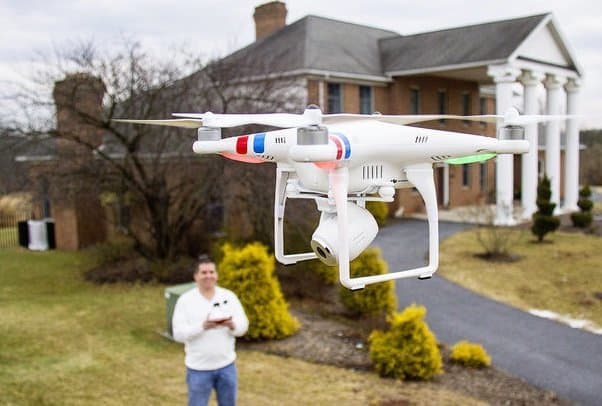 The commercial and hobbyist drone market is growing like crazy. The demand for drone insurance has also gone up.
The integration between SkyWatch.AI and leading insurance brokers allows drone pilots and drone service companies to access affordable and convenient insurance options through their existing brokers.
The new integrated insurance program will be available via a web portal.
New SkyWatch.AI customers can go directly to the dedicated web portal without having to download the app.
Existing customers who are already using the SkyWatch app will have their app account synchronized with the web portal.
They'll be able to use either platform without losing any data.
If this is your first time getting drone insurance, read our comprehensive guide to Drone/UAV insurance before you sign on to SkyWatch or any other drone insurance program.
In that guide, we explain why you need insurance, what kind of insurance you need, and how much to get.
---