Drones have evolved rapidly in the past few years. Although initially popular as military reconnaissance tools, their commercial adoption has skyrocketed.
The insurance industry, long known for its conservative approach to innovation, has been surprisingly receptive to drone use. Judging by the already positive results realized so far, the trend is set to rise in 2019.
---
Drone use in P&C insurance
According to statistics, property, and casualty (P&C) account for 48% of the entire insurance industry.
To better handle the billions of dollars worth of claims filed after every tropical storm, insurers are turning to drones.
The unmanned aerial vehicles are used mainly to analyze damage and process roof claims.
Drones first saw significant use by insurers in 2017.
This was after hurricanes Irma, Maria and Harvey devastated parts of Florida, Puerto Rico and Texas respectively.
They were used in higher numbers in 2018, especially after hurricanes Michael and Florence.
With the 2019 hurricane season fast approaching, insurance companies are counting on them more than ever.
---
Benefits of using drones in insurance
In the past, an aerial survey of the damage caused by flooding and storms was done using aircraft.
Although they can cover large swaths of land, these aircraft don't have the kind of advantages offered by their unmanned counterparts.
A drone can get closer to damaged property and inspect it more thoroughly. It can also gather and relay images, audio, video, and other crucial data. Other benefits include:
Faster rebuilding after a devastating storm due to rapid assessment of the damage. Drones can cover larger areas in a shorter span than human claims adjusters. This leads to more accurate processing of claims, which also makes affected policyholders happy.
Reduction in Loss Adjustment Expenses (LAE). These are costs associated with assessing and settling claims. Since drones work faster and can survey the most dangerous properties, the number of claims adjusters needed is reduced.
Improved safety. Being a claims adjuster is one of the most dangerous jobs in America. Because they usually assess damage to unstable homes after dangerous storms, they're more likely to be hurt in the process. Drones eliminate this problem because they can do a better analysis from various angles.
More unbiased claims processing. Unlike human claims adjusters whose decisions may be influenced by emotional factors, drones can be trusted to be objective. They collect data and forward it for further analysis.
Technological advances mean drones are increasingly aiding in pre-planning by gathering, analyzing, and storing data before damage occurs.
That way, after a big storm, they can gather new information and compare it against the database. This makes damage assessment easier and more accurate.
---
Challenges faced by drone operators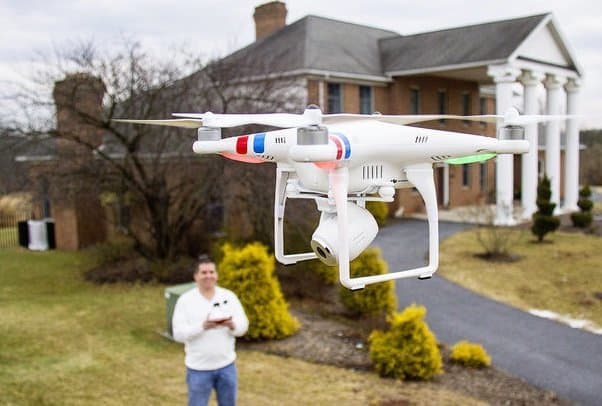 There are three main challenges drone operators face:
1. Government regulations
Although the FAA has relaxed some rules concerning drone operations, they still curtail UAVs from being fully deployed.
Federal laws require anyone flying a drone to maintain a line of sight, which severely limits distance covered.
They're also required to fly no higher than 400 feet above ground level, to avoid collisions with other aircraft.
But the FAA has started clearing Insurance companies like State Farm and AIG to perform more intensive drone based surveys.
2. Privacy concerns
Since drones were initially conceived as reconnaissance tools, they've always raised privacy concerns.
The fact that they can record images, audio, and video makes them likelier to invade the privacy of third parties.
Besides, when drones land on private property, the operators can be charged with trespass.
3. Limited capabilities
Drones might have witnessed impressive developments in the recent past, but they're yet to perfect some functions.
The insurance industry drones need higher resolution imagery, better property analysis tools, and improved measurement capabilities.
---
Drone insurance
As drones become essential tools in the insurance industry and many other applications, insurance for drones has also gone up.
Drone insurance provides protection, especially for operators flying in hazardous conditions such as after a storm.
Legacy insurance companies have introduced new covers, specifically targeting drones and drone equipment.
They also provide liability insurance to cover against injury or damage to property.
There are also startups offering innovative drone insurance products.
Companies like Verifly and SkyWatch provide drone insurance on demand via apps. You can pay for hourly, daily, or monthly coverage depending on your needs.