If you haven't yet read our full guide to using camera drones for real estate marketing, you are missing out.
It is an in-depth look at how real estate professionals and drone operators can work together to greatly improve the appeal of property listings.
You can also checkout the dozen or so drones we have recommended for real estate marketing. They range from the less than $400 3DR Solo quadcopter to the $5,000 DJI Matrice 600 Pro.
For this blog post, I want to hone in on the top three drones for residential and commercial real estate marketing.
The Features That Matter
For a real estate drone, the most essential component is obviously the camera. So for a drone to qualify in the top three, it must have a 4K camera.
This ensures ultra HD quality videos that are no different from what a Hollywood producer makes.
Remember that real estate marketing is all about appeal. Customers' first perceptions are largely based on the quality of pictures and videos they see. With a 4K camera, you can take stunning imagery that sells.
The stability of the camera is just as important as the camera itself. I recommend using nothing less than a 3-axis gimbal. This provides the smoothest videos without any shaking or vibrations.
The kind of drone you are using also matters a great deal. It needs to be a drone that's easy to use, comes with features to help you fly safely and take great images and videos and can fly relatively well even in choppy wind conditions.
With those features in mind, here are the three drones that I think top the chart when it comes to real estate marketing. I have not listed them in any particular order.
DJI Mavic Pro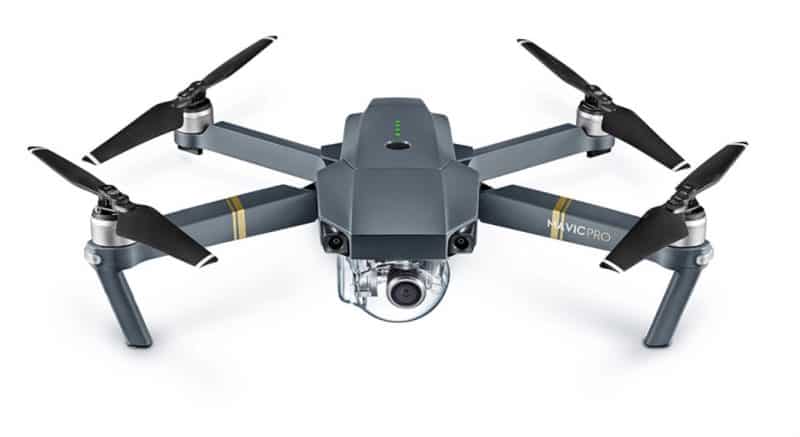 Price-wise the Mavic Pro is the middle-of-the-road choice between the $700 Typhoon 4K and the $3,000 Inpire 2.
If you are looking for a good real estate drone but don't have the budget for a premium buy like the Inspire 2 or the Phantom 4 Pro, this is a good choice.
Why it's Good for Real Estate Marketing
1. 4K camera
Despite the small body, DJI was able to pack a 4K camera onto the Mavic Pro. It captures 4K video at 30fps and 12MP stills at 4000×3000 pixels.
In fact, looking at the full camera spec sheet, it's almost as good as a full size camera. So you can be sure that your photos and videos will look good.
The camera has a smaller field of view than the Phantom 4 Pro, so your photos will not be as expansive.
2. 3-axis gimbal
DJI had also to design an extra-small gimbal system to contend with the smaller drone size. The 3-axis gimbal works perfectly to create smooth videos and eliminate vibrations.
You can create professional-looking video walkthroughs of a property and capture sweeping shots from above.
The gimbal can rotate 90 degrees downwards for straight-down shots and 30 degrees upwards. You can also control the pitch using the controller wheel.
And in case you want portrait shots, the camera can spin 90 degrees to go from landscape mode to portrait.
3. Easy intuitive control
The Mavic Pro comes with several features that make flying it easy and intuitive. They help you focus more on taking images and videos and less on flying.
For instance there is the tripod mode which comes in handy for indoor shots and videos. In this mode, the drone changes to a slower and precise movement to capture as much detail as possible.
There is also TapToFly which allows you to set a path for the drone to automatically fly along.
Read our full review of the DJI Mavic Pro.
Yuneec Q500 4K Typhoon
This is the best value real estate drone. At around $700, you get a drone with a 4K camera, 3-axis gimbal and a controller with a large touchscreen.
Why it's good for real estate marketing
1. 4K camera, 3-axis gimbal and SteadyGrip
The 4K camera captures ultra HD videos at 30fps. You can also capture slow motion 1080p videos at 120fps. Like the Mavic Pro, it also captures images at 12MP.
The 3-axis CGO3 Gimbal Camera eliminates any vibrations or shaking that could distort your images and videos. In small areas where the copter can't fly, you can use the handheld SteadyGrip to capture smooth videos.
2. Easy navigation
The Yuneec 4K has three easy operating modes: smart mode to fly in a specific radius, angle mode for more shot variety and home mode in case you lose signal.
3. Full-featured ground station
The ground station provides flight control (direction, pitch, speed etc.), camera control (angle, resolution, exposure etc.) and live streaming on a 5.5-inch touchscreen.
See our full review of the Typhoon Q500 4K.
DJI Inspire 2
It was a tough debate between Inspire 2 and Phantom 4 Pro. They are two great drones that I would recommend to any UAV expert getting into real estate.
In the end, Inspire 2 made the cut for top 3 because it's heavier (hence better for windy conditions) and provides more powerful camera capabilities. See this quick comparison by DJI if you are torn between the two.
Why it's great for real estate marketing
1. 5.2K/4K video and 20.8MP Stills
You get markedly improved picture and video quality with the Inspire 2 compared with the MAvic Pro or even Phantom 4 Pro. It captures 5.2K video with the Zenmuse X5S micro four thirds camera and 4K with the X4S camera.
For serious commercial and residential real estate drone operators, the Inspire 2 provides the powerful imagery capabilities you need.
It can even record videos in many common formats including Apple ProRes and CinemaDNG for easy post-production editing.
2. Easy navigation
The Inspire 2 is equipped with several sensors, allowing it to fly safely without hitting obstacles. Even when flying autonomously, it can navigate through the tightest of spaces without a scratch.
It also comes with Spotlight Pro, a tracking mode that allows you to capture complex dramatic shots with ease.
3. Dual battery system
A dual battery system allows the Inspire 2 to stay in the air for up to 27 minutes. This is far longer than what a drone of its size and weight should achieve.
You can take longer videos without having to recharge or swap the batteries.
See our full review of the DJI Inspire 2.