DJI has made a great drone almost perfect.
The Mavic Pro is a darn good drone, one of the best in the market.
The new Mavic 2 Pro is even better, especially when it comes to the camera. I can easily say it is the best camera drone for hobbyist and beginner drone photographers.
Whether you are shooting videos and photos for real estate, agricultural work or just for fun, the Mavic 2 is hard to beat.
Overview
Most of the upgrades were to the camera. The rest of the drone is a lot similar to the Mavic Pro.
The drone is available in two versions – the Mavic 2 Pro and Mavic 2 Zoom. The only difference between the two variants is the camera.
The Pro features a 20 MP Hassselblad camera with a 1" CMOS sensor while the Zoom comes with a 12 MP optical zoom camera with a 1/2.3" CMOS sensor.
DJI has also upgraded the software including a more precise ActiveTrack 2.0 and OcuSync 2.0 for improved resolution in live video.
The drones also come with several Hyperlapse modes that take and automatically create cool hyperlapse videos.
Obstacle avoidance has also received a big upgrade with new sensors on all sides, making the Mavic 2 harder to crash.
DJI retained the compact and foldable design that made the original Mavic Pro so convenient to use and travel with.
Overall, DJI has built on what made the Mavic Pro the best drone, adding new incremental features that make the Mavic 2 a worthy upgrade.
To compare the Mavic 2 with other camera drones, read my recently-updated buying guide.
Who Is It For?
In our original Mavic Pro review, we noted that the drone wasn't really the best option for pros. It was more for amateur and entry-level photographers and cinematographers.
This time around, DJI has added a few more features for us to declare the Mavic 2 a worthy consideration for pros.
Two camera options. The Pro is good for all-round photography while the Zoom is perfect for situations like sports and wildlife photography.
The Pro's camera has a larger sensor. This results in better dynamic range, improved low light performance, and more flexibility post-processing.
The Pro's camera supports a 10-bit Dlog-M color profile. This means it can record over a billion colors. This greatly improves dynamic range, giving your photos more life and color.
The Mavic Zoom gives you the ability to take high-resolution stills from a distance thanks to its 4X zoom (which includes 2X true optical zoom).
If you are looking for a mid-range professional camera drone, the Mavic 2 Pro is a great choice.
But we don't recommend it for all the pros. If you are looking for a drone for serious and versatile cinematography and photography, I recommend the Inspire 2.
It has more advanced features that pros will appreciate. You can even change the camera.
But it costs twice as much.
Compact and Foldable
As I mentioned, DJI has not changed much in terms of design.
It's slightly heavier and bigger (partly because of the new omnidirectional sensors and larger camera sensor) but otherwise retains the compact and foldable style of the original Mavic Pro.
The controller is also foldable and the thumbsticks are detachable for an even tighter fit in your drone case. This leaves plenty of space to pack additional batteries and accessories that you'll need.
The Camera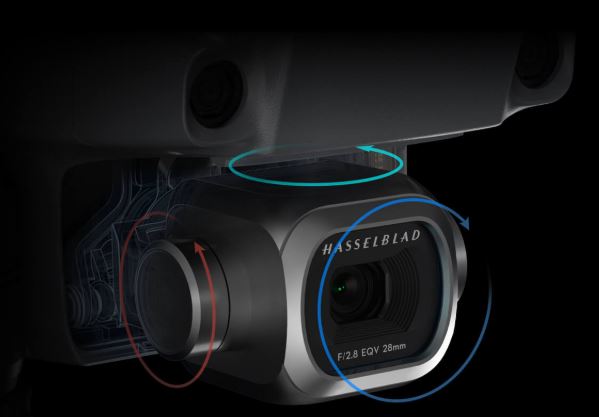 The cameras are easily the most exciting aspects of the new DJI Mavic drones. The entire upgrade was centered around them.
Let's look at each drone's camera individually.
Note that none of the two drones has a modular camera system, a feature drone enthusiasts and photography pros had been hoping for. You are stuck with the camera the drone comes with.
If you want an interchangeable camera, get the Inspire 2.
DJI Mavic 2 Pro Hasselblad Camera
DJI partnered with Hasselblad, a renowned Swedish camera manufacturer, to create the Mavic Pro camera.
The most notable thing about the new camera is the larger 1" sensor that provides better low-light performance, higher dynamic range and better image quality overall.
The camera also comes with an f/2.8-f/11 adjustable aperture, a big deal for those who want some creative freedom when taking drone shots.
You can control the brightness and field of depth of your images.
As I mentioned, the camera supports a 10-bit Dlog-M Color Profile. This allows it to capture more than a billion different colors.
The difference is apparent in the Mavic 2 Pro's photos. You can see more colors and the images look more natural.
Having a higher dynamic range also gives you much more freedom to play around with the images in post-processing.
DJI Mavic 2 Zoom Camera
Pro is the best choice for most drone photographers.
But if a lot of your work involves shooting faraway subjects, I recommend the Zoom.
Whether you are shooting video or images, you can get close to your subjects from a safe distance. This is great for wildlife and sports photography/cinematography.
The camera has a 4X zoom that includes 2X optical zoom. This ensures you retain image quality.
The 48mm telephoto lens also lets you add a creative flair to your aerial shots. You can play around with perspective to create pro-quality cinematic shots.
The new Dolly Zoom mode is handy when you want to zoom while flying. The camera adjusts focus automatically as you shoot your video.
You can also set focus speed manually to create your own effect.
Flying It
DJI drones have always been easy to fly.
The Mavic 2 is even easier to fly thanks to the bunch of new sensors they added. There are sensors all around the drone, making it harder to crash into trees or buildings.
In addition, the drones come with the usual slew of assistive flying modes that let you focus on taking shots instead of controlling the drone.
If you are upgrading from another DJI drone, you'll have an easy time transitioning to the Mavic 2 Pro.
If this is your first drone, it won't take very long to get used to it.
The flight software is highly reliable and responds instantly to your commands from the controller.
It can hover the drone precisely at a single spot, guide the drone through tight spaces and get the drone back to base safely through the RTH (return to home) function.
For beginners, it's still a good idea to spend some time with a drone flight simulator before attempting to fly a $1,500 drone.
The advertised flight time is 31 minutes, which is 4 minutes longer than the Mavic Pro. Hovering time is 29 minutes.
Note that these flight times were achieved in perfect conditions with no wind. If you tend to fly faster or in windy conditions, the battery life will be shorter.
Taking Shots
What I have always loved about DJI is how easy they make it take photos and videos with their drones.
Even an amateur drone photographer can take pro-quality shots without much practice.
The Mavic 2 Pro and Zoom cameras are already good enough. They can take high-resolution photos in a wide variety of situations.
To get the best out of the cameras, there are several automation modes you can use.
ActiveTrack 2.0
ActiveTrack has been upgraded. The 2.0 version is more precise and follows subjects with incredible accuracy even at high speeds (max 44mph).
DJI has improved object recognition and the drone can even predict the trajectory of an object or person to make the following easier.
Panoramas
There are four panorama modes to choose from including horizontal, vertical, 180 degrees and sphere.
These modes allow you to vary your perspective, especially when taking nature and urban photos.
Shooting Modes
DJI has improved its signature shooting modes to make it even easier for amateurs and pros to take great shots.
Point of Interest 2.0: In this mode, the drone flies in a circle around the subject.
Waypoint 2.0: The drone flies through the points you indicate on the map. Unlike the previous Waypoint mode, the drone doesn't need to fly first to these waypoints to mark them.
Dolly Zoom: Want your videos to have the vertigo effect seen in Hitchcock films? Use this mode. It creates beautiful cinematic videos.
Asteroid: The drone descends from height in a tight circle to create the effect of an asteroid falling. This mode is great for getting close to subjects from above.
Boomerang: This mode combined lateral and vertical movements to create an interesting Boomerang effect. It's perfect when you want to capture both the subject and their environment.
Hyperlapse
Now you can create cinema-quality hyperlapse videos with your drone with just the tap of a button.
There are four hyperlapse modes to choose from: Free, Circle, Course lock and WayPoint.
Read my blog post for more on what Hyperlapse is and how to use the different modes to create stunning shots.
Controller and Video Transmission
DJI has redesigned the controller to work better with mainstream smartphones.
As usual, the controller is foldable, making it easy to carry along with the drone. They've also made the thumbsticks detachable for easier portability.
As for video transmission, the Mavic 2 comes with OcuSync 2.0. It provides better video quality and less lag.
To avoid issues with interference, the drone can automatically switch between 2.4 GHz and5.8 GHz.
The drone has a longer max transmission range of 8km and a top transmission resolution of 1080p.
Other Features
DJI Goggles – They provide an immersive FPV experience with a 1080p video transmission at a max range of 8km.
Quiet – DJI incorporated a special design and propellers to reduce noise levels. No worries about disturbing other people nearby. The low-noise design is also great for wildlife photography where you don't want to disturb your subjects.
Better aerodynamics – Though slightly heavier and bigger than the original Mavic Pro, the Mavic 2 has better aerodynamics resulting in a max speed of 72kph (compared to Mavic Pro's 65kph).
Specifications
4K video quality
3-axis gimbal
Weight: 907g for the Pro, 905g for the Zoom.
Dimensions: 214×91×84 mm folded and 322×242×84 mm unfolded
Max speed: 72kph (44.7mph)
Max flight time: 31 minutes
Max flight distance: 18km (11 miles)
Satellite tracking: GPS and GLONASS
8km range
Omnidirectional Obstacle Sensing (sensors on every side)
What We Like
Upgraded cameras.
Easy to fly (even for beginners).
Safer to fly – there are more sensors.
Precision mechanical gimbal.
Longer battery life.
Longer range.
LEARN MORE at DJI