Our Take
NOTE

: in 2017, DJI replaced the Phantom 3 Pro with the Phantom 4 PRO.
The Phantom 3 Pro is an easy to use, fully integrated camera drone package with an intelligent system that helps you fly smarter.
Even when flying up to 1.2 miles (2km)* away, built-in Lightbridge technology gives you complete control over your Phantom 3 and an immersive, live HD view of everything below.
Flight Controller
Just connect your phone or tablet (iOS or Android) to the USB port on the all-new controller and you're ready to film.
The Phantom 3 streams video direct to your device in 720p from a distance of up to 1.2 miles. And your phone will charge while connected to the controller!
The new DJI Go flight control app used for the Phantom 3 is the same used by its more expensive sibling, the Inspire 1.
The main screen in the DJI Pilot app has four main functions: camera, director, store and user center.
In the camera section, you access everything you need to fly the Phantom 3.
Surrounding the live camera feed are a ton of dials and telemetry data including your altitude, distance from ground station and map location (bottom right corner). It also displays live signal strength indicators for your comm channel and GPS satellites.
The controller includes buttons for Auto Takeoff and Return Home flight modes. There's also a prominent button for taking camera shots.
PC Ground Station
DJI Go App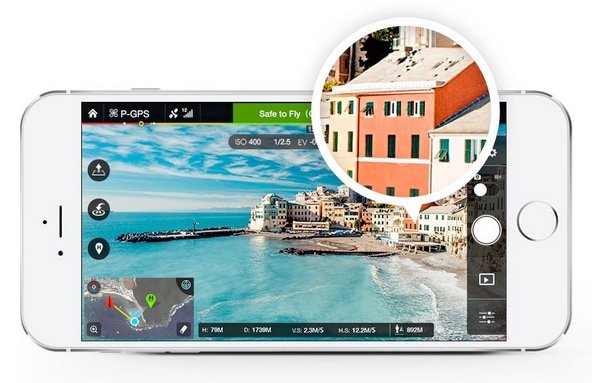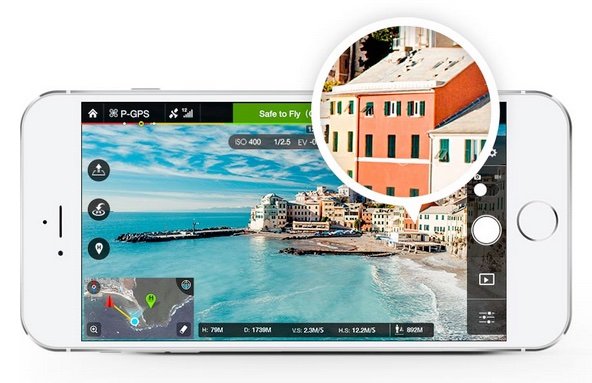 The included DJI Go App runs on your phone or tablet, allowing you to see and control everything through one screen:
live scrolling map provides real-time awareness of your location and surroundings
control the camera
control your flight settings
view live flight telemetry including altitude, speed and direction
view your flight log
edit, publish and share video straight from your phone or tablet
DJI Video Editor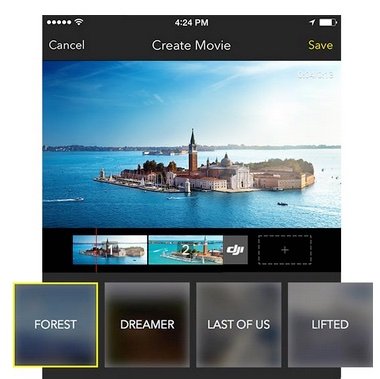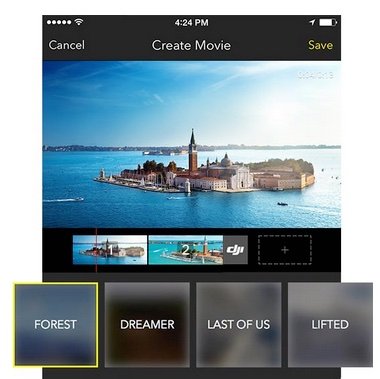 Using the DJI Video Editor app on your smartphone or tablet, you can:
Create professional-looking movies in minutes
Choose from several pre-defined templates
Camera
One big difference between the Phantom 2 and 3 is the camera. The Phantom 2 is designed to carry a GoPro, whereas the Phantom 3 uses its own proprietary DJI camera.
The included 4K camera is excellent, however. There's almost zero fisheye distortion present and the images are outstanding and color-balanced.
Close-ups are a bit soft/fuzzy, but otherwise nothing to complain about.
One of the benefits of controlling the camera is that DJI can extend functionality and control beyond what GoPro allows. The Phantom 3 includes new camera controls like time-lapse and burst mode, and you set manual exposure via the app.
Automatic Flight Assistant
The Phantom 3 comes with advanced flight assistance features including:
built-in GPS records your aircraft's take-off point and position at all times
if you lose contact or lose control of the aircraft, it will automatically return home
upon takeoff, the aircraft hovers in place until you are ready to go
upon landing, the Phantom 3 hovers in place until you are ready to receive it
Advanced Flight Modes
DJI recently announced that advanced flight modes and waypoint-directed GPS autopilot are NOW AVAILABLE for their Phantom lineup.
Live Video Streaming To YouTube
Once you grab the shot, the included video editing software works lets you stream your live video directly to YouTube (720p). Not sure how many people will actually do this, but it could be used for live event coverage or video surveillance.
The Phantom 3 is designed to basically fly itself, while you focus on getting a great camera shot. First Person View (FPV) works almost flawlessly (unlike the Phantom 2), and is a lot of fun.
Overall, the Phantom 3 is a great camera drone that takes incredibly crisp and stable images while keeping things simple.
It's the perfect cam drone for most consumers and hobbyists.
Specifications
Accepts any size phone or tablet for FPV video display
Included 4K Video / 12 Megapixel Photo Camera
Integrated 3-Axis Stabilization Gimbal
Intelligent Flight System
Live HD View
Dedicated Remote Controller
Powerful Mobile App w/ Auto Video Editor
Vision Positioning for Indoor Flight
18-20 min flight time
2 km range
1-year warranty
24/7 technical support
Features We Like
The easiest-to-own and operate HD camera drone on the market today.
Suitable for amateur and semi-professional photographers and film makers.
Small size makes it perfect for travel.
Built-in 4K camera with no Fish-eye effect
DJI Pilot App lets you operate the camera and view live streaming through your smart phone or tablet
3-Axis gimbal provides pixel-grade stabilized video
Fail-Safe mode brings the drone home on low-battery alert
Auto Take Off
Return Home
Vision Sensor monitors ground position within 3 meters, making indoor operation a breeze
SEE MORE REVIEWS ON AMAZON