Find the Best Camera Drone Selling Right Now
You can easily find a camera drone from the vast numbers available in the market.
But which is best for you?
---
What's In This Guide
This page reviews the best flying cameras from the leading manufacturers in the industry.
I've filtered-out the models that aren't worth your money or your time, in my opinion.
The first half of this guide reviews the best ready-to-fly camera drones selling today.
Some of the drones you'll learn about in this guide and on this site include: 
* links above go to product pages on Amazon and other sites
The second half of this guide discusses the key features to look for in a camera drone.
After you finish reading this guide, check out my in-depth reviews of specific drones/UAVs to learn more.
I recently reviewed Yuneec's Typhoon H3, DJI's latest Phantom, Mavic & Inspire models, and DJI's new commercial workhorse, the Matrice 600.
Who This Guide Is For
If you are looking for a proven camera drone to capture high-quality aerial video and images, then this buying guide is for you. I cover everything from starter camera drones to high-end prosumer drones that can capture stable, super-high-quality 4K images.
If you are a serious aerial photographer seeking to upgrade, then this guide will help you, too. I cover the most popular professional flying camera platforms that are designed to carry professional camera rigs like the RED Epic and the latest Zenmuse options.
Dig Deeper: Other Buying Guides On This Site
In addition to this guide, I've published a few other buying guides for people interested in specific applications of camera drones, including:
We'll be publishing more like these in the future.  Subscribe to my newsletter if you want the latest updates.
I hope this guide helps you narrow-down your camera drones shortlist.
I update this page regularly, and I'm always looking for input. If you see an error or have a suggestion, then please let me know using our contact page or just leave it in the Disqus thread below.
Happy shopping 🙂
---
Want A Copy Of This Guide To Keep?
This guide has more than 10,000 words. If you want an eBook (.pdf) copy to keep or share, then click the button below to leave your email. I'll send you a copy right away.
---
My Top 3 Picks of Camera Drones
You can't go wrong with any of these three camera drones.
These are the most popular models made by reputable manufacturers. They carry good warranties, are packed with the latest features, and come out of the box ready to fly and shoot high-quality 4K images and video.
If you are looking for a less expensive camera drone or a higher-end professional flying camera platform, then keep reading for my picks in each of these categories.
Mavic Air 2
$
799
w/ 4K Camera & 3-axis Gimbal
The latest drone from DJI offers unbeatable value for money: great camera, solid build quality and top of the range flight performance at an affordable price.
Phantom 4 Pro V2.0
$
1,599
w/ 4K camera & 3-axis stabilization gimbal
To make it easier to take aerial shots, the Phantom 4 Pro V2.0 has several intelligent flight modes including ActiveTrack, TapFly and Draw Mode.
DJI Inspire 2
$
3,299
w/ Inspire 2 camera and gimbal
The DJI Inspire 2 is designed for professional filmmakers. The customizable rig, powerful propulsion system and intelligent flight modes make it easier to film cinematic scenes from the air.
---
Best Cheap/Starter Camera Drones
If you've never flown a radio-controlled helicopter, multi-rotor drone, or fixed-wing drone before, then I recommend buying a cheap "starter drone" to learn on.  Before you end up wasting $1,000 on a weekend of misery.
Two Reasons to Buy a Starter Drone
I think that all newbie camera drone operators should start flying on a "starter" camera drone, for two reasons:
You are going to crash

. A lot.


Replacement parts are cheap and easy to find for these drones.

It takes time to learn how to fly a drone & to take good shots.


Flying a camera drone/UAV is a lot like learning how to drive a car AND shoot good photos at the same time. More specifically, you need to learn:

the basics of multi-rotor flight

flight safety

operating checklists

aerial camera positioning

how to set up good shots

how to design good flight lines

and more
This all takes time to master.
Mistakes will be made…
The following starter drones are under $500. They shoot good quality HD images and video and will teach you an awful lot about how to pilot an RC camera drone correctly.
All of these drones will work fine for consumers. Some are better suited for serious photographers because they lay the foundation on more advanced camera controls and flight planning.
---
A palm-sized, full-featured quadcopter drone that's designed for fun. Great starter drone for FPV/racing enthusiasts.
The Hubsan H107D X4 is a surprisingly small RC quadcopter with an integrated first-person view (FPV) camera.
It packs an amazing amount of sophistication and features into an affordable starter drone that anyone can pilot.
The fixed-mount quadcopter camera faces forward and captures 720 x 240 resolution SD video and 0.3 MP still photos.
Obviously, with a fixed-mount camera, this is not the best drone to learn how to move a camera around on a gimbal. But it's great for learning how to properly position a camera in the air, which is important if you are the sole operator.
The camera transmits its video stream wirelessly to the controller via 5.8 GHz. It captures video and photos onto a MicroSD memory card (up to 16GB) in a slot built into the transmitter.
The Hubsan H107D uses a 4-channel, 2.4 GHz transmitter that provides a flight range of up to 300 feet. But seriously, that's fine – because this thing is so small, you'd probably lose it from sight beyond that range.
The controller includes a 4.3″ LCD screen that lets you monitor real-time FPV video and see flight telemetry data to keep you on top of what is happening in the air.
Due to its tiny propeller size and overall lightweight, the Hubsan X4 resists damage well. That said, it is very sensitive to wind and weather. It is perfect for flying indoors.
For best results outside, operate this little speed demon in light wind conditions or near ground level, where wind speed is minimal.
Best Features
Best entry-level FPV drone on the market.

Small size (4-inch diameter) and lightweight make it hard to damage.

6-axis controller provides excellent control

CHEAP, especially for what you get

Great for indoor racing
Issues
Very sensitive to wind

Image quality is OK and a bit shaky (no gimbal)

Tiny: about the size of your palm

Limited range & flight time
Specs
720×240 SD Video camera / 0.3Mp stills

Fixed-mount camera (no gimbal)

RC Transmitter with built-in 4.3″ LCD live video FPV monitor

2.4 GHz Transmitter

5.8 GHz Video streaming

LED Night Lights

Blade Protectors and Rubber Feet

MicroSD Card Slot for up to 16GB Cards

7 min flight time

300 ft range (WiFi limited)
See Latest Price on Amazon
---
A seriously fun and capable quadcopter designed for kids as well as adults looking for a starter drone.
DJI Tello is designed with fun in mind. It does take some amazing photos, but we don't recommend it for serious drone photography.
But if you are looking for a good starter drone that's safe and easy to use for you or your kid, Tello is an excellent choice. And it costs less than
Tello does not come with a controller, but worry not; you can fly it using the Tello app. And by the fly, we don't mean taking it on a straight line or boring circles. The app lets you do different moves and maneuvers, including flips and aerial stunts.
Tello comes with an integrated camera so you can take short 720p videos and take 5MP photos. And if you want to live FPV, Tello can stream 720p video to a compatible headset.
Tello is pretty small, small enough to fit on the palm of your hand. And because it weighs just 80g, you don't need to register Tello with the FAA.
For safety, it comes with collision detection and propeller protection. You can even fly it indoors.
Tello has a 13-minute flight time, which is impressive for a drone this small. We recommend buying the Boost Combo that comes with three batteries (for a total flight time of about 39 minutes).
Tello is also designed as a programming learning tool for kids. Kids can program custom fight patterns and see results in real-time.
Tello has plenty of limitations. It can't fly in anything more than a gentle breeze, and the photos and video are nowhere as good as those of a serious drone. But still, many users were impressed with the quality of media, especially in outdoor well-lit environments.
Because it connects to your phone via WiFi, it has a max range of about 100m. It's more of a backyard drone rather than something you'd take on outdoor adventures.
Best Features
Toss to fly
720p live viewing via an app or VR headset
720p videos and 5MP photos
Aerial stunts through an app
Small and lightweight – no FAA registration needed
Obstacle detection
Issues
Struggles to fly when it's windy
Decent, not great, photos and video
Specs
80g weight
4 GHz WiFi connectivity
100m range
13mins flight time
30m max-height
See Latest Price on DJI
---
Best Prosumer Camera Drones
The ready-to-fly (RTF) multi-rotor camera drone (prosumer drone, for short) is the most popular type of camera drone sold today.
There are dozens of models to choose from.
Prosumer camera drones are the right choice for people who want to shoot professional-grade aerial photos and videos, without having to customize their rig.
The prosumer drone is a lot like the starter DSLR camera of the drone/UAV world, in several ways:
They come out of the box ready to fly & shoot, without requiring much training.

They emphasize ease of use, seamless systems integration & advanced features over camera settings, precision, and flexibility.

You can get great shots with very little effort.
Most prosumer camera drones offer no choice of camera, although some will let you swap lenses.
If you need to use a specific camera setup, then check out my top picks for Professional Camera Drones, further down this page.
The prosumer drones below shoot high quality 4.0K 30-60 fps video using H.264 and take big, bright 13-20 megapixel stills at varying burst rates.
To keep prices reasonable, some prosumer drones compromise on advanced features, operating range, and/or image quality.
There are a lot of choices in this category, and prices tend to drop fast. So shop wisely.
---
The latest drone from DJI offers unbeatable value for money: great camera, solid build quality, and top of the range flight performance at an affordable price.
It's almost unbelievable how affordable the Mavic Air 2 is. For a drone that, in some aspects, outmatches the twice as expensive Mavic Pro 2, we certainly expected it to cost more. Not that we are complaining.
The Mavic Air 2 brings with it better all-round tech and improved flight performance.
Let's start with the camera. The Mavic Air 2 camera features a 1/2″ CMOS sensor that can take 48MP stills and 4K/60fps video.
That's a darn good camera for hobbyists and even some professional uses in real estate and pro photography. It doesn't beat the larger 1″ sensor in the Mavic 2 Pro, but the Mavic Air 2 makes up for it with higher resolution photos and videos.
Similar to other DJI consumer camera drones, the Mavic Air 2 comes with several features to take your photography/videography to the next level. These include HDR, 8K hyperlapse, SmartPhoto scene recognition, and HyperLight for low light situations.
And if you are a noob, like us, the Mavic Air 2 comes with several intelligent shooting modes that will make your friends think you are a pro when they see the resulting shots.
These modes include FocusTrack, hyperlapse, and QuickShots. Each of these three modes has additional sub-modes so you can customize shots depending on the subject, environment, and your creative pleasure.
The Mavic Air 2 stays in the air for an impressively long time – 34 minutes. That's longer than even the Mavic Pro 2.
Mavic Air 2 also boats a longer transmission distance (10km) than the Mavic Pro 2's 8km as well as a higher bitrate (120 Mbps vs. 100 Mbps for the Mavic Pro 2).
Mavic Air 2 comes with upgraded safety and obstacle detection systems. The new APAS 3.0 system can detect and avoid obstacles even in complicated environments and flight paths.
One notable improvement is that the drone can avoid objects thrown towards it in addition to fixed objects in its path (but we don't recommend testing this).
Note that, while the Mavic Air 2 has multiple sensors, it doesn't detect obstacles in all directions like the Mavic Pro 2. Mavic Air 2 has three-directional obstacle sensing; there are no sensors at the top or sides. So be careful when flying indoors, in tight spaces, or through wooded areas.
Another safety upgrade is AirSense, a new feature that keeps you from getting too close to airplanes.
The controller has been upgraded as well. It features integrated antennas, so no need to unfold them. Furthermore, your phone now clips to the top of the controller rather than between your wrists, which we think is a much better position.
Overall, the Mavic Air 2 is a solid choice for camera drone enthusiast looking for a great drone that doesn't cost an arm and a leg. We still think the Mavic Pro 2 has better camera chops, but the Mavic Air 2's performance is good enough for most non-pros.
Shopping tip: If you are going to spend $799 on the Mavic Air 2, you might as well add $200 more for the Fly More Combo pack. The Combo pack includes three batteries, six pairs of propellers, ND filters, a battery to power bank adaptor, and a shoulder bag. Considering a single battery costs $115 when bought separately, the Fly More pack is a good deal.
Best Features
Foldable for easy portability.
Multiple intelligent shooting modes.
Longer flight time.
Upgraded safety and obstacle detection.
4K video and 48MP stills.
Issues
No upward-looking and side sensors – don't attempt flying in tight spaces until you are an expert.
Video quality is limited in some modes like HDR.
Specs
1/2″ CMOS sensor
4K/60 fps video and 48MP photos
Up to 10km video transmission
34mins flight time
Measures 180×97×84 mm folded and 183×253×77 mm unfolded
Weighs 570g
3-axis gimbal
See Latest Price on DJI
---
DJI has upgraded their most advanced ready to fly camera drone.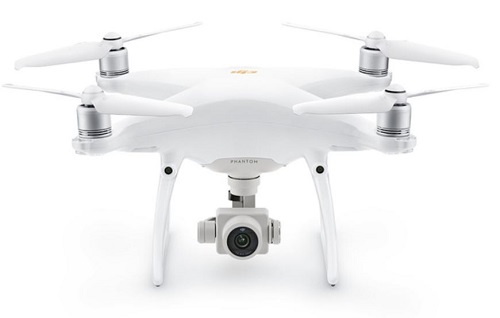 The Phantom 4 Pro V2.0 comes with several incremental upgrades from the Phantom 4 Pro.
Notably, they've not touched the camera; it's similar to that of the Phantom 4 Pro. A 1″ CMOS sensor with 4K/60 FPS video and 20MP stills.
The f/2.8 wide-angle lens delivers sharp and detailed shots for pros. Similar to its earlier sibling, the Phantom 4 Pro V2.0 is perfect for filmmakers and professional photographers and videographers.
A mechanical shutter allows you to capture action shots without rolling shutter distortion.
To make it easier to take aerial shots, the Phantom 4 Pro V2.0 has several intelligent flight modes, including ActiveTrack, TapFly, and Draw Mode.  
Flight and safety performance are also similar between the two drones. You get about 30 minutes of flight time and a five-directional obstacle sensing system.
The only difference in-flight performance is that the Phantom 4 Pro V2.0 has a better propulsion system that significantly reduces noise during flight.
The biggest upgrade in the new Phantom 4 Pro V2.0 is to the remote controller, both the hardware and software.
DJI ditched the Lightbridge transmission system used in Phantom 4 Pro for the new OcuSync 2.0 HD transmission system.
OcuSync 2.0 allows the controller to receive live video transmission from up to 8km. More importantly, now you can get a live 1080p video, compared to the max 720p the Lightbridge system offered.
With OcuSync 2.0, now you can connect to DJI Goggles wirelessly for a better FPV experience.
The Phantom 4 Pro V2.0 is available with two controller options: a standard controller for $1,599 and a controller with a screen for $2,049.
The controller with a screen eliminates the need to have a tablet or smartphone attached to the controller. The screen has the DJI GO 4 app integrated into it, so you can watch 1080p live video on it, edit and share videos and photos and monitor your drone, including the battery.
If you already have the Phantom 4 Pro, you probably won't find the upgrade worth it. But if you are looking for a new professional camera drone, the Phantom 4 Pro V2.0 is a great pick.
Best Features
1″ CMOS sensor
4K/60 FPS video and 20MP photos
Intelligent flight modes make it easy to take videos and photos
The new transmission system (OcuSync 2.0) lets you live view 1080p video and connect wirelessly to DJI Goggles.
30 min flight time
Multi-directional obstacle sensing and avoidance
Issues
Want a screened controller? It'll cost you $500 extra.
Fixed focal length. No zoom for close-up shots.
Specs
Accepts any size phone or tablet for FPV video display (only for the controller without a screen)
20 Megapixel Photo Camera w/ 1-inch CMOS
Shoot 4K video at 60 fps
Take burst-mode stills at 14 fps
Integrated 3-Axis Stabilization Gimbal
Intelligent flight modes
Live 1080p View
Dedicated Remote Controller
DJI Go Mobile App w/ Auto Video Editor
GPS-free Positioning for Indoor Flight
30 min flight time
45 miles per hour top speed
8 km range
1-year warranty
24/7 technical support
See Latest Price on DJI
---
Yuneec collaborated with the German camera company, Leica, to create the Typhoon H3 for professional photographers and videographers.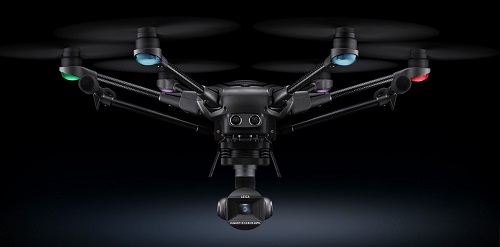 Yuneec worked with Leica specifically to design and manufacture the camera used on the Typhoon H3, the ION L1 Pro camera.
The ION L1 Pro has a 1″ CMOS sensor that can take 4K/60 FPS videos and 20MP still. It is mounted on a 3-axis gimbal that allows a shake-free 360-degree view.
The camera has all sorts of features you'd expect from a professional camera, including wide dynamic range, hyperlapse videos, 10-bit YLog video, and Auto Exposure Bracketing, among others.
The drone itself also makes it easier to take great shots using intelligent flight modes. These include Follow Me, Curve Cable Arm, Orbit Me, and Journey. With these modes, you can focus on getting the shot right while the drone autonomously takes care of navigation.
You can also set the Typhoon H3 on cruise control, where it maintains a constant speed to allow a smooth shot.
If you prefer to do things manually, the Typhoon H3 allows a two-person operator team, but you'll need to buy a second remote control.
The one remote control included with Typhoon H3 is the android-based ST16S. It's not as good as a DJI OcuSync controller, but it's enough for most pros.
The biggest limitation is range. While DJI offers a max range as long as 10km with the Mavic Air 2, the ST16S controller has a max transmission range of 2km in clear conditions. The max video transmission range is even smaller at 1.7km.  
The ST16S has a 7″ screen to view the 720p live video, so you don't need to attach a mobile device. The controller has an HDMI port, so you can connect it to a large monitor for everyone to see the live video.
As for flight performance, the Typhoon H3 is one of the best and most reliable camera drones around. The six-rotor system ensures stability even in strong winds. And if one rotor fails, the drone can automatically fly on five rotors for a safe landing.
The Typhoon H3 has a climbing speed of 5 m/s, a max horizontal speed of 20 m/s, and 25-minute flight time. It's equipped with ultra-sonic obstacle detection, a return to home function, and an adjustable virtual fence that prevents a runaway situation.
Best Features
6-rotor system – provides more stability and better flight performance in different conditions.
Built-in redundancies and fails safes.
Intelligent flight modes.
Retractable arms and landing gear make portability easier.
Closed data system for added security. There's no cloud data transmission involved.
Issues
Limited transmission distance.
Reduced flight time compared to DJI drones.
Live video limited to 720p.
Specs
1" CMOS camera sensor
4K/60 FPS videos and 20MP photos
Weighs 4.3lbs, including camera
32°F – 104°F operating temp
720p live video
2km controller max range; 1.7km live video transmission max range
See Latest Price on Yuneec
---
Best Camera Drones for Professionals
Do you find prosumer drones too limiting for your needs?
Then take a look at the professional camera drones, listed below.
These serious – and expensive – flying camera platforms are designed for professional aerial photographers and filmmakers who need a custom camera + gimbal system to achieve the image quality their jobs demand.
Cinema-Quality Video
Professional camera drones are designed to capture images in a wide range of cinematic-quality formats including:
RAW

Micro Four-Thirds

H.265

Apple Cinema Pro
To do this, they provide more lift power to carry heavier, professional camera systems such as the popular RED Epic.
Most pro camera drones support a wide range of camera and gimbal choices.
One caveat: unless you need the payload capacity and/or the additional control over your images, then definitely go with a prosumer drone.
Also, if you don't already know how to operate a camera drone safely, then make sure you train on a cheaper starter drone before you spend big money on one of these rigs. 
I say this because professional camera drones are typically far more expensive to buy, repair, and to find replacement parts for.
Training Is Required
Finally, compared with a prosumer model, learning to fly and shoot using a professional camera drone takes a bit of time, for several reasons:
Less automation. Because you are mixing-and-matching components, you don't the same automated flight modes and camera tricks as you find in prosumer drones.
Flight and camera controls are harder to master and may require calibration before each flight.
Lack of advanced features like object detection and collision avoidance… without modifying your basic control systems.
You may have to re-balance the rig for each camera setup.
But all of this extra work and expense pays off in the form of far better image quality.
So, if you need the best – and your budget and schedule have room for it – then here are my top picks:
---
The DJI Inspire 2 is designed for professional filmmakers. The customizable rig, powerful propulsion system, and intelligent flight modes make it easier to film cinematic scenes from the air.
The DJI Inspire 2 improves on the powerful features that were in the first Inspire drone. To provide the best professional filming experience, Inspire 2 combines customizability with power, performance, and ease of use.
DJI has made huge improvements to flight performance. The Inspire 2 drone, despite being fairly heavy, can achieve speeds up to 58mph with decent speeds up to 9m/s.
Obstacle sensing systems keep the drone safe from objects in its path.  
Similar to other DJI drones, you get a raft of intelligent flight modes that make it easy to film complex shots. These include Spotlight Pro, ActiveTrack, TapFly, and QuickSpin.
These modes are especially handy for single operators. You can focus on tweaking camera settings while the drone maneuvers itself in the right pattern.
Talking of the camera, the Inspire 2 is compatible with a range of Zenmuse cameras, including the X4S, X5S, and X7. You can pick the drone + camera combo you want when ordering. The top camera, the X7, will cost you about $20,000, including the drone itself.
The controller also received an upgrade. The improved transmission system allows you to control the drone and get a 720p or 1080p live video from a distance of up to 7km.
The controller also offers frequency switching between 2.4 and 5.8 GHz, ensuring low latency even in areas with signal interference.  
The DJI Inspire 2 drone is designed to fit your needs, so there are plenty of accessories you can buy depending on your work situation. These include Multilink for linking multiple controllers, an 8-battery charging station, and a remote controller GPS module.
Best Features
Self-heating batteries – maintains battery performance when working in cold conditions
Dual batteries for extended flight time
Multiple intelligent flight modes
Obstacle detection
Compatible with several Zenmuse cameras
Issues
Specs
27mins flight time
58mph max speed
9m/s descent speed and 6m/s ascent speed
7km range
1080p live video transmission
Weighs 7.5lbs without gimbal and camera
Compatible with Zenmuse X4S, X5S and X7 camera
See Latest Price on DJI
---
Yuneec Typhoon H520 is a general-purpose professional hexacopter that can be customized for different applications depending on the camera you put on it.
Yuneec sells the Typhoon H520 without a camera. This allows you to choose the perfect camera for your project.
Yuneec offers several compatible camera options for different applications. For filmmaking and photography, we recommend the E90 camera. It has a 1″ CMOS sensor that can take 20MP photos and 4K/60 FPS videos. The E90 offers an 8x digital zoom.
If you need a zoom camera, get the E30Z. It has a 1/2.8″ CMOS sensor that takes 1080p videos. The E30Z offers 30x optical zoom and 6x digital zoom.
Other options include the E10T camera for thermal imaging applications, E50 for inspections of wind turbines and other structures, and the CGOET, also for thermal imaging.
Cameras are hot-swappable (switch between different cameras without powering down the drone), so you can buy multiple cameras and quickly switch between them depending on your needs.  
The drone itself features Yuneec's extra-stable 6-rotor platform. It can fly in strong winds and hover precisely in the air.
The H520 has a 25-minute flight time (with the E90 camera), team mode option using two controllers, GPS, GLonnas & Galileo navigation, sonar collision avoidance, and several intelligent flight modes.
Note that the H520 kit comes with two batteries for a total flight time of about an hour.
For control, the H520 uses the same Android-based ST16S controller used with the Typhoon H3. It has a control range and video transmission range of up to 1.6km or 1 mile.
A 7″ screen lets you see live video and even transfer it to a larger external screen using the integrated HDMI port.
Best Features
Customizable rig.
Closed data system – no external servers.
Hot-swap accessories for easy switching.
Team mode option.
Issues
You have to spend extra money on a camera.
Limited transmission and control range.
Specs
25-minute flight time (E90)
Weighs 3.6lb without camera and gimbal
7 m/s max climbing speed
1-mile transmission range
See Latest Price on Yuneec
---
A flexible, programmable flying workhorse is suitable for a wide range of aerial imaging missions.
Unlike prosumer drones, the M100 was purpose-built to be modified by its owner.
Using its hardware expansion bays, the Matrice 100 can be configured to carry any set of cameras, sensors, or devices (up to 1kg) that you want to put into the sky.
DJI's new SDKs let developers build custom mobile apps and advanced flight controls for any requirement. The M100's combination of flexibility and programmability opens new doors to develop reliable and inexpensive aerial photography solutions for many vertical applications.
Unlike most commercial drone platforms, however, the Matrice 100 is not a kit.
It's an honest-to-goodness ready-to-fly fully integrated flying platform.  It comes complete with a flight controller, propulsion system, flexible cargo bays, GPS, dedicated remote controller, a great mobile app, and a rechargeable battery.
Priced at about $3,000 without camera or gimbal, the M100 offers compelling value for anyone who needs a custom-built flying camera solution.
Which is to say: most of the professional drone/UAV market, today.
Best Features
Excellent value for its class

Ready-to-fly and fully tested

Expansion bays support almost any sensor/imaging setup up to 1kg

Great range and flight time
Issues
Vision/proximity sensors sold separately

Camera and gimbal sold separately

Assembly and calibration required
Camera Choices
Any, up to 1 kg total payload
Specs
Powerful new DJI 3510 motors

DJI 1345s propellers

ESC: DJI E SERIES 620D

Flight Control: DJI N1

Remote Controller: C1

Video Transmission: 2.4GHz Lightbridge

Camera: recommend Zenmuse X3 Camera + Gimbal (additional cost)

1 kg payload

Flight time: up to 40 minutes (no payload, two TB48D batteries)

Range: up to 2 km (outdoors / unobstructed)

Max Speed: 17 m/s or 20 m/s (depending on navigation, ATTI or GPS)

Wind resistance: up to 10 m/s
Learn More at DJI
---
A flexible, powerful six-rotor workhorse that's perfect for professional filmmakers, news teams, and commercial customizers.
With its 6 kg payload capacity, 36 minute flight time and centimeter-precise navigation (with upgrades), the M600 can meet the most demanding needs of almost any aerial imaging job, including:
professional filmmaking

live HD video (news broadcast, live events)

thermal imaging & inspection (oil-and-gas, wireline)

and more
The M600 exploits DJIs new A3 Flight controller, which works synchronously with Lightbridge 2 advanced video transmission allowing it to produce HD live streaming from as far as 5 kilometers away.
As anyone close to the industry knows, DJI's live video transmission technology is second-to-none.
The Matrice 600 can handle most camera setups weighing up to 6 kg, which means you can easily carry any of DJI's latest Zenmuse cameras, DJI's Ronin MX gimbal – or even a RED Epic.
Best Features
Massive 6 kg payload

Broadcast-quality Live HD Video Streaming

Super-flexible design: expansion bays support almost any sensor/imaging setup (up to ~1kg); suitable for many commercial applications

Excellent range and flight time
Issues
Expensive

Assembly & calibration is required
Camera Choices
Up to 6 kg total payload

RED Epic

Ronin MX gimbal

Zenmuse X3, X5, XT, Z5 series
Specs
Powerful new DJI 6010 motors

DJI 2170 propellers

Video Transmission: 2.4GHz Lightbridge

Dry Weight: 9.6kg

Payload: up to 6 kg

Flight time: up to 36 minutes (no payload) or 16 minutes (max payload)

Range: up to 5 km (outdoors and unobstructed)

Max Speed: 18 m/s or 20 m/s (depending on navigation, ATTI or GPS)

Flight ceiling: 2500m

Maximum Ascent: 5 m/s

Max Angular Velocity: 300 degrees/second (pitch), 150 degrees/second (yaw)

Wind Resistance: up to 8 m/s
Learn More at DJI
---
Tips for Beginners Using a Camera Drone
Before you do it, flying a drone and taking photos and videos from above sure look like fun. And it is. But it also requires lots of practice to fly the drone safely and take decent shots. Otherwise, you'll be spending a lot of money on a fancy toy.
If you are a newbie in the world of aerial photography/videography, here are some tips.
Buy a starter drone: You'll probably crash your first drone several times. Get a cheap starter drone that you don't mind buying replacement parts for or even replacing with a new drone. Our current favorite starter drone is the DJI Tello. If you want a more capable starter drone, we recommend DJI Spark or the Mavic Mini.
Upgrade to a hobbyist drone: If you have already learned the basics of flying a drone, upgrade to a hobbyist drone like the Mavic Air 2 or Mavic Pro 2. In most cases, these drones will be enough for your needs. They offer high-quality shots (usually 4K or better) and excellent flying performance.
Leave professional rigs to pros: Unless you are a professional filmmaker, you don't need a customizable rig like the Typhoon H3 or DJI Inspire 2 that costs thousands of dollars. These drones are harder to fly and, to be honest, they are overkill if you just want to take some cool shots to share with friends.
Get an extra battery: Most drones offer a 25-35 minute battery life, hardly enough when you are having a blast taking photos and videos. We recommend buying an extra battery or two to enjoy longer flight times.
Be creative: Ultimately, aerial photography is not much different from normal photography, at least when it comes to the basics. A great camera will only take you so far. Learn how to use lighting, background, perspective, and other aspects to take stunning shots.
Use intelligent flight modes: Most drones come with several intelligent flight modes that navigate the drone autonomously, leaving you to focus on the camera. These modes can make a big difference in the quality of your videos and images, so don't be shy to use them.  
Stay safe: Follow drone safety rules and use common sense to ensure you don't hurt anyone, damage property, or lose your drone. Play it safe with the weather, watch where you fly, and make sure you can always see the drone.
Don't worry if your photos and videos suck at the beginning. Everything takes practice. Put in lots of hours with the drone and practice taking photos in different situations and environments. You'll get better.
---
What Is A Camera Drone?
A camera drone is a radio-controlled aerial flying platform designed to carry an HD camera that shoots high-quality videos and still photography, vibration-free. It can be either a fixed-wing or multi-rotor configuration. 
Most camera drones are multi-rotors like quadcopters because multi-rotors are exceptionally stable and maneuverable flying platforms.
The most popular camera drones today are ready-to-fly, with an HD or 4K camera and gimbal installed.   Some can be easily fitted with a popular 2-axis or 3-axis gimbal capable of carrying a camera of your choice.
Advanced Software
Many leading camera drones come equipped with advanced software-driven features that simplify the planning and production of a video shoot, for example:
pre-flight planning software: create your flight plan by drawing waypoints on a map using a tablet or touchscreen interface
GPS autopilot: execute your flight plan hands-off, via autopilot, so you can focus on getting a great shot
automated trick camera shots: follow-me (3PV), a region of interest (ROI) targeting and circle-me are some of the newer automated camera modes making life easier for filmmakers
safety features: Auto Return Home (RTL), Low Battery Return, and Pause-and-Hover modes are now available in many models. These will help you avoid damage to your aircraft and injury to others.
flight simulator: learn how to fly before risking your equipment
video editing and publishing software
and more
While it may take a little time to master all of the features of your camera drone, today's best-selling drones are easy to fly and take crisp, stutter-free HD video and still shots.
---
Want A Copy Of This Guide To Keep?
If you'd rather read this guide as an eBook (.pdf), then click the button below to leave your email. I'll send you a copy right away.
---
Why Buy A Camera Drone?
Because you can produce awesome aerial clips like these:
As you can see, drone-based aerial videos can be really cool.
But there are far more important reasons, so many people and companies are investing in camera drones. Flying cameras are helping us work smarter, see better, and work more efficiently in dozens of industries.
---
Camera Drones At Work
Every day, hundreds of thousands of camera drones perform jobs that people, pilots, and satellites have been doing for decades.
Which camera drone is right for your job?
To help you narrow down your shortlist for a particular industry or use, I've published a few more buying guides on this site, including:
---
Professional vs. Amateur Filmmaking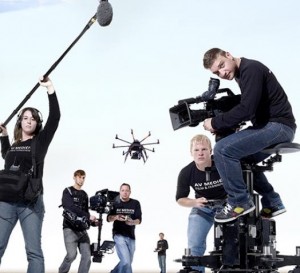 Many popular camera drones are used by both amateur and professional filmmakers.
However, serious cinema professionals sometimes require flying platforms that can carry heavier, custom camera systems like the popular super-high-resolution camera, RED Epic.
For example, professional-grade camera platforms like the DJI Matrice 600 can carry 5-10 lb payloads. But they typically cost more than $4,000 and sometimes introduce complexities and choices that most amateurs and semi-pro filmmakers would rather avoid.
In addition to a heavier payload, some of the more advanced features that a professional filmmaker may need in a camera drone include:
2-operator mode: one person flies while the other directs the camera; most commercial films are produced this way
custom gimbal/camera mounts to hold professional video or film cameras & to stabilize the shot
redundant lift power: professional filmmakers often prefer dual-motor and 6- or 8-propeller lift systems to protect their expensive cameras from damage in case a motor fails.
advanced GPS-based flight planning & control systems to plan and execute complex, time-synchronized flight paths & automated camera shots in 3 dimensions
object detection and collision avoidance systems, like the ones offered in the DJI Phantom 4 Pro v2.0 and Yuneec Typhoon H3
advanced camera controls to adjust the camera's aperture, shutter, and other settings while in flight
more precise GPS autopilot positioning, using redundant GPS/GLONASS receivers and inertial sensors like the centimeter-level precision available in the DJI Matrice 600.
more durable construction, like the magnesium-aluminum frame used in the new DJI Inspire 2
cinema-quality 5.2k video capture with Apple ProRes / CinemaDNG compatibility, also available in the DJI Inspire 2.
Live Video Streaming
The vast majority of camera drones are used for recording HD video for playback later, not for live broadcasting.
While news stations continue to experiment with live drone video feeds, the resolution and reliability of live HD streaming from drones are not quite there yet.
This is because there are lots of technical issues involved with trying to stream live 4K video at 30-60fps.
That said, DJI claims their new M600 hexacopter can deliver reliable broadcast-quality HD video from up to 5 km away.
With the FAA's recent approval of the NFL using drones for live video, I expect more drone manufacturers to follow in DJI's footsteps.
---
Ready-to-Fly vs. Building Your Own
For most amateurs and professionals just starting, a ready-to-fly (RTF) camera drone is by far your best option.
RTF camera drones like the ones DJI, 3D Robotics, and Parrot sell have worked out the bugs and inconsistencies among their onboard and ground station systems. This integration makes taking high-quality shots on every flight easy and stress-free.
RTF camera drones sacrifice flexibility in camera & payload choices, but most amateurs and semi-pro filmmakers won't notice.
Building your camera drone from scratch is another option.
But going DIY, it isn't realistic for most people.
Instead, most hobbyists prefer to mount a camera and gimbal of their choice onto a proven commercial-grade flying platform like the DJI Matrice 600 that meets the minimum requirement for film making and photography:
accepts professional gimbals and cameras (mounting space and payload capacity)
includes an onboard GPS with an integrated flight controller and autopilot
comes with integrated flight planning & control software
has been proven in the field for camera work.
Custom-mounting a gimbal and camera to a drone requires care due to center-of-gravity and possible equipment interference issues.
Also, custom-built camera drones may lack advanced camera control and direction such as follow-me (3PV) and region of interest (ROI) targeting.
Finally, warranties may not cover a DIY flying camera.
If you need a camera drone for specialized jobs such as data acquisition, agriculture, or surveillance, then you may want to consider purchasing a special-purpose work drone, instead.
Industry-specific drones tend to be more expensive and more complex to operate, however. This is why many professionals opt for "prosumer" drones like the Inspire 2 or Phantom 3, whenever they can.
---
What Does It Cost?
If you're willing to settle for a limited range and less than 4K video quality, then you can get a decent RTF camera drone for about $500.
Complete, ready-to-fly camera drones capable of shooting 4K videos usually cost between $1,000-$2,000. Most flying cameras in this price range offer a LOT of features, including flight planning software, a ground station controller with an integrated touchscreen, GPS autopilot, advanced trick camera shots, a 3-axis professional gimbal, and a GoPro 3/4 or similar-quality camera. The most popular RTF camera drones in this price range are the Phantom 4 PRO v2.0 and the Typhoon H3.
For more professional demands – for example, if you need to film in Micro Four Thirds or need a drone that allows 2-person operation – prices generally start at around $2,500 and can go much higher. The leading RTF flying camera in this price range is the DJI Inspire 2 ($2,000-$8,000), which offers many different camera packages including a professional-grade Micro Four Thirds camera system.
If you need to fly a heavier camera rig like the RED Epic, then you'll need to upgrade to a higher-payload multi-copter like the Matrice 600 ($4,500), which is capable of carrying a massive 6kg of gear. But heavy-duty flying camera rigs like this cost $6,000-$10,000 after you add a camera and gimbal.
---
Want A Copy Of This Guide?
Click the button below, and we'll send you a .pdf copy of this guide right away.
---
Features To Look For in a Camera Drone
The rest of this guide explains the features that matter most when selecting a drone for aerial photography and filmmaking.
Camera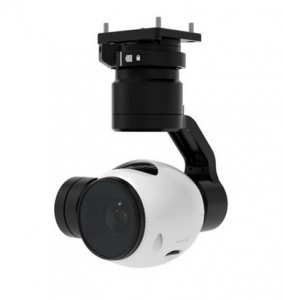 Arguably, the camera is the most important feature of any film maker's drone.
Most leading camera drones use proprietary cameras these days for lots of practical reasons. The most important advantages of using the drone manufacturer's camera include:
better control over camera positioning
control over more camera features like shutter speed and zoom
camera features can be planned, automated & synchronized w/ your flight plan, and executed with the manufacturer's flight control system
The biggest downside of using a proprietary camera is obvious: it can't be swapped out, as technology advances. For most consumers, a proprietary camera system isn't a big deal.
Many professional filmmakers prefer camera drones with pro gimbals that can accept many different cameras.
Popular third-party cameras used in aerial film and photography include:
Canon EOS 5D Mark III
Panasonic Lumix GH4
Sony NEX 7
RED Epic
GoPro Hero 4
BlackMagic Pocket Cinema
Camera Mount & Gimbal
The best-quality camera drones like DJI's Phantom 4 Pro v2.0 are equipped with a high-quality professional 3-axis gimbal to control camera positioning and to provide a stable image in all conditions.
The quality of your gimbal will make or break the quality of your video image. A camera gimbal takes care of two critical jobs in film making:
camera positioning: a gimbal controls the direction of the camera in 2 or 3 axes using a series of high-precision electric motors; and,
image stability: a gimbal ensures that normal vibrations and sudden movements of the drone do not impact the quality of the image. It does this by using its high-speed electric motors to compensate for motions detected by an onboard gyro.
Digital gimbals like the one used in the Parrot BeBop improve image stability for fixed-mount cameras, but only so much.
Avoid fixed camera mounts if image quality is your priority.
Flight Controller
There are many different types of flight controllers available today.
They range from simple 6-axis RC flight controllers to sophisticated tablet-based controllers that integrate flight status, map overlay, waypoint control, and live streaming video into a single display.
Some flight controllers are touch-sensitive, allowing you to pinch and squeeze status and video stream windows while you fly.
Drone manufacturers today compete on the differences in their flight controllers and associated software. Every day there's an announcement of some new feature.
That said, take care to ensure that your controller has the following basics covered:
Battery life: how long does your controller operate without a battery swap? If it only lasts 30 minutes and the unit reboots on a battery swap, then you may be frustrated in the field.
Manual flight control: make sure you have 6-axis control over your drone using twin sticks. Don't go for a novel or fancier designs.
Flight control frequency: most camera drones use the 2.4 GHz or 5.8 GHz frequency band for flight control. If yours is switchable, then great because either spectrum can get crowded in a suburban or urban area.
Telemetry data streaming: does your controller provide equipment and flight status to you in real-time? telemetry data can be a lifesaver if your drone flies out of view and has an accident
First-person view (FPV) video streaming: does your camera drone provide a live video stream from its onboard camera? Is it in HD, so you can see the shot as it will appear on film? can you attach FPV glasses via an HDMI port?
GPS Autopilot
GPS autopilot is a standard feature on the most popular camera drones sold today.
There are three types of GPS systems used to control drones today:
Standard GPS: uses a single GNSS receiver chip: accurate to within a meter or two; used on most consumer drones
Redundant GPS: uses two or more redundant GNSS receivers, typically a standard GPS plus a GLONASS receiver; this is a good choice if you'll be flying over populated areas or any space where losing GIS positioning could be catastrophic.
Parallel GPS: two or more GNSS receivers working in conjunction to deliver sub-meter precision, useful where highly precise location accuracy is required, such as covering stadium sporting events.
Most people are fine using a single GPS to operate a camera drone. But if the speed of satellite acquisition, safety, or location precision is critical to your job, then you may want to upgrade to a more sophisticated solution.
Flight Planning & Control
If you want to produce a professional quality film or video, then solid pre-flight planning is essential. This can be done with or without software.
That said, integrated flight planning and control software is an essential part of flying a camera drone today. It frees the operator to focus only on capturing great camera shots.
The best camera drones for sale like the Phantom 4 Pro v2.0 include integrated flight planning & control software that lets you visually plan your flight path ahead of time by overlaying waypoints onto a visual map of your flight region.
Later, the waypoint flight plan used to drive the drone's GPS autopilot system to fly the drone with little to no interference from the pilot.
In general, amateur and semi-pro videographers and photographers should avoid camera drones that do not come equipped with this vital capability.
Advanced Camera Control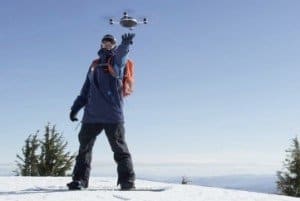 The drone market continues to release new automated camera control features.
The most popular of these are Follow-Me (3PV) and Region of Interest (ROI) camera modes.
Follow Me camera positioning lets a single operator direct a drone to maintain camera focus on the operator while the drone executes an autopilot or manual flight plan.
Follow-Me makes it easy to take an HD "film selfie" of you enjoying your favorite extreme sport and outdoor activities without needing a second person to operate the drone. In Follow-Me mode, the drone will follow the operator wherever s/he goes using a location beacon that is typically worn on the wrist or as a pendant.
Region of Interest camera positioning maintains the camera's focus on a GPS-defined region, rather than a moving person.
ROI mode is useful in building and construction monitoring, event and tourism marketing, real estate marketing, and other applications where the center of the action is a fixed location.
Using the right drone, a filmmaker can program a flight path and add a Region of Interest to do a complete sweep of an area or event, all without touching the controls.
Real-Time Object Detection
The latest innovation in the ready-to-fly camera drone market is real-time object detection. This is the built-in ability to "see" the drone's surrounding terrain in 3D and to recognize objects within it, in real-time.
The DJI Phantom 4 Pro v2.0 was the first ready-to-fly camera drone equipped with this ground-breaking capability. The Phantom 4 Pro v2.0 uses a set of forward- and down- looking cameras & sensors that monitor its environment.
Object detection adds another level of intelligence to a camera drone. This enables cool and useful features such as advanced "follow-me" & "follow-that" navigation, new trick camera shots, and automatic collision avoidance (described below).
Automatic Collision Avoidance
Collision avoidance is a feature that drone operators & manufacturers have been dreaming about for a long time. And now, it's finally here!
Enabled by real-time object detection, the newest camera drones like the Phantom 4 Pro v2.0 can literally see objects in their flight path and automatically route a new course around them.
This feature offers many important benefits.
First off, you reduce the chance you will crash and damage your drone due to unexpected obstacles.
The second advantage is that flight planning is simplified without increasing risk. With intelligent re-routing around objects, you don't need to worry as much about an unseen object like small trees and light poles. Just let your drone take care of it.
Of course, this sounds a lot simpler than it works in practice. If there is an object in your drone's way, then you may not get the camera shot you were after, and you'll need to re-plan and fly the shot again.
But at least you didn't destroy your aircraft!
Streamlined Video Editing

Don't overlook the software provided by the drone manufacturer.
Specifically, apps that streamline video editing and publishing sequence. After all, editing video usually takes more time than shooting.
After capturing that great trick shot, wouldn't it be awesome if you could review the clip right on your flight controller – and even edit it?
Well, with the newest popular camera drones, you can.
For example, DJI offers a free mobile app, the DJI Video Editor, with every Inspire and Phantom drone.
The app runs on the same device you use for flight planning, GPS tracking, live video feeds, and telemetry.
This sort of integration makes fly > shoot > edit a breeze.
Flight Time
Flight time is critical, obviously, for any filming or photography job.
Most quadcopter-style flying platforms have a useful flying time of 10 to 25 minutes.
But some of this time is eaten up flying to and from your camera target. This means the majority of ready-to-fly camera drones will deliver 10 to 15 minutes of useful camera time before having to return to base.
If more time is required, a fixed-wing drone may be a better option. Fixed-wing camera drones are capable of flight times up to 1 hour. However, due to the speed they operate, the quality and flexibility of film making are reduced.
Alternatively, you can use multiple drones to shoot specific sections of your shot's flight path.
Flight Ceiling
Flight ceiling is usually not an issue with most camera drones, because the shot is almost always focused on the ground or a building.
But if you are filming wild geese flying, parachutists, or base jumpers, then be aware of the limitations.
Flight ceiling is almost always artificially imposed by the drone's software or a line of sight limitation or the wireless radio's range, not by the flying platform itself.
By replacing the controller with a more powerful unit or by upgrading your software, you may be able to dramatically improve the ceiling of your drone.
Speed
Most ready-to-fly camera drones cannot fly much faster than 50 miles per hour in a straight line, with zero wind resistance.
That's OK since the typical speed used on most video shoots less than 20 mph.
If your camera target frequently moves faster than 30 or 40 mph, then you may need to look at a fixed-wing camera drone, or you may want to attach a gimbal to a racing drone (up to 100 mph).
Range
Many camera drones are capable of operating up to 1 km away from the controller. Sometimes as far as 7 km with wireless boosters.
That said, weather conditions and radio interference in the environment can reduce effective range by as much as 90%.
A camera drone's effective range is a function of the quality of the wireless connections used for the radio controller unit, the video streaming channel, and the telemetry channel (if separate from video). The less crowded the frequency band, the more chance you have of flying a long-distance and streaming HD video when you arrive.
If you need a long-range operation, then make sure your drone & controller use the latest wireless/radio frequencies & technologies approved for drone use, such as 5.8GHz or 5.0 MiMO.
Safety Features
There are two kinds of safety to worry about when operating a camera drone: the safety of the drone and the safety of people nearby.
The most important safety features to get in a camera drone include
Prop Guards to protect people from being injured by sharp propeller edges, and to protect your drone from trees.
Return Home: automatically return the drone to launch location, using a single button.
Emergency Landing: if problems are detected by the drone such as low battery life, automatically attempt a safe, controlled landing or execute the return home mode.
Auto-Hover: sometimes called a "Panic Button," hover mode immediately stops all forward motion and hovers in place. Important when wind or weather conditions temporarily ruin a shot; or, if you lose sight of the drone and no longer have video stream or telemetry data to confirm its position.
Flight Tracker: monitor and log your aircraft's GPS position throughout its flight. Important if you fly beyond line-of-sight. The Flytrex 3G is a great choice (about $180).
Wind Resistance
The vast majority of camera drones are used outside. So, wind resistance is important to understand.
The truth is, every quadcopter is at least somewhat wind sensitive and will be impacted by winds greater than 20-30 miles per hour.
If your environment experiences regular high gusts of wind, then consider using a fixed-wing drone instead.
Water Resistance
This is one feature where drones differ dramatically.
If you're taking shots of any sort of outdoor sports, then you will want your camera drone to be water-resistant (IP5 and IP6). You can't control the weather, after all.
If your video flights are over open water (chasing boats or skiers), then you also need your drone to float – and to identify its location if it splashes down.
Most camera drones today DO NOT FLOAT.
The few that do are water-resistant enough to continue operating, which means they will continue to identify their location – until the battery dies.
Warranty
Warranties for most ready-to-fly camera drones like the Phantom three generally last one year and cover all parts, including the camera and gimbal.
If you custom-build a camera drone, then only the flying platform is warranted – your camera & gimbal are your problems.
Replacement Parts
This is where the brand you buy can make a big difference. There are thousands of drone manufacturers today, but most of them are custom job shops that assemble other company's parts.
Replacement parts are easier to obtain and often cheaper for the most popular camera drone manufacturers. DJI, 3D Robotics, and AR Parrot produce 80% of the camera drones sold today, so if their products can meet your needs, you're probably better off.
---
Get Trained
Most drone buyers today are first-time flyers, and taking great shots from the air is not easy to do.
It takes a lot of practice to fly, point, and shoot in 4 dimensions (x, y, z, and velocity) using a remote camera.
If you don't want to destroy a few drones ($$$) and cameras ($$) and waste weeks learning how NOT to fly a camera, then I recommend you get trained by experts.
Even if you have a pilot's license, then I recommend getting trained on the following techniques and topics:
flying a drone safely
getting legally certified to operate a drone in your country
flying a drone on GPS autopilot
how to get great aerial shots: aerial photography and videography
editing and processing high-resolution images and video, using the latest software tools
The good news is there are many options today for getting trained, either in person or online.
Check out my new list of The 50+ Best Online and Ground Training Programs to see a comprehensive list of education, certification, and training programs available today.
Online Course Picks
I prefer online courses because they are self-paced, and flying a camera is a hobby for me.
Here are a few courses I can recommend:
How to Take Great Aerial Shots & Edit Them (using FCPX or Adobe Premiere): Stunning Aerial Videography and Photography Using Drones by Bruce Geddes, Aerial Videographer, Photographer and Expert. This is a hands-on 7-hour course that teaches you how to plan your flight and your shots together, how to take shots, and how to edit and add effects to your images and video. Cost: $99 on Udemy.com (5-star rating with over 1,000 students to-date).

How to Fly a Drone Safely: for a school or class near you, check out this comprehensive list of UAV training courses on DroneTrainingHQ.com. Also, check out the $3500 UAV Certificate course offered by Unmanned Vehicle University.
---
Get Insured
If you're flying a drone or UAV for commercial purposes, then you need to consider buying liability and damage protection insurance.
Today, it's fairly easy to get multiple insurance quotes in the US for almost any purpose.
Read my guide to buying drone insurance to learn why you need it, where to buy it and how much it costs.
---
Learn More
SEE MY CAMERA DRONE REVIEWS
---
Grab A Copy Of This Guide
Click the button below, and we'll send you a .pdf copy of this guide that's perfect for reading later and for sharing with friends and colleagues.