Unlike other industries which are still exploring drone use, real estate adopted the technology from its infancy. Their ability to take high-quality aerial shots from various angles has made them a natural choice for realtors.
Although these developments have popularized real estate drone photography, some aspects of this niche sector are still fuzzy. One of them relates to how drone photographers price their services.
These rates vary from hundreds to thousands of dollars per gig. Before figuring out how much such shoots cost, let's assess the various circumstances that determine the price.
---
Factors influencing real estate drone shoot costs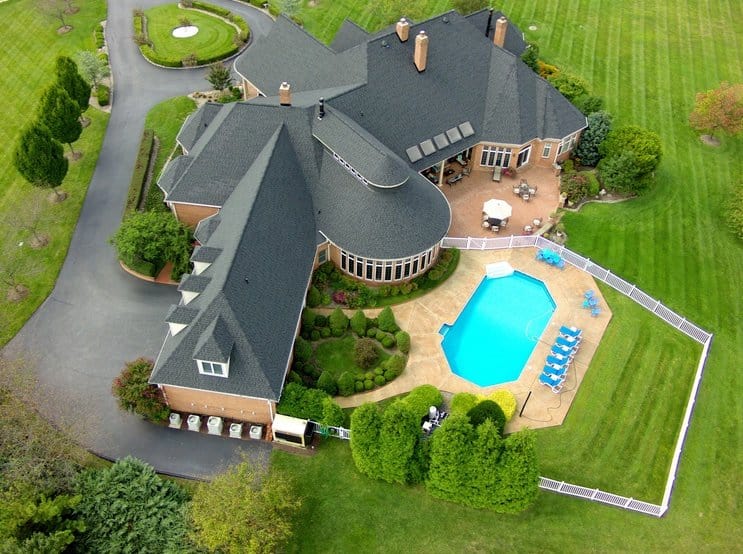 When pricing their services, professional drone photographers consider the following aspects:
Each project you work on will have unique challenges, no matter how much you try to standardize your rates.
Custom quotes are influenced by factors such as the size of the property being photographed, as well as any special request the realtor might have.
If the listing is for luxury real estate, expect to pay more for extremely high-quality shots.
Some listings also require more preparation due to having more complex angles, or being nestled in a bustling neighborhood. This can increase costs.
Costs associated with real estate photography include buying the drone itself, training to operate it, and acquiring a license. Operators should fully comply with part 107 regulations for commercial drone use.
A real estate photographer may also charge more depending on the kind of drone they have.
Premium drones such as the DJI Mavic 2 Zoom, Parrot Anafi, DJI Mavic Air, and DJI Phantom 4 Pro V2.0 may increase the quoted price.
Expenses are variable costs that make real estate drone photography rates vary from one photographer to another. They include premium software subscription, mileage, marketing, web hosting, SEO, and manpower costs.
Another added cost is drone insurance. Having coverage assures realtor clients that they won't be responsible for any liability arising from potential drone mishaps.
Though the photographer will probably not charge you directly for insurance, they could pass some of the cost to you in their pricing.
Other than shooting photos and videos, you may need some complementary such as editing, translation, and transcription services.
These will increase the cost of the shoot.
Although a drone's impressive camera resolution might give you exquisite aerial drone photos, photography skills also count.
One photographer might charge higher than another for the same type of work. That means he or she places a higher value on their time and skills.
Some locations, especially urban centers, attract higher quotes than others simply because the market rates are higher.
But in some location with lots of competing for real estate photography services, you might be lucky to find some pretty affordable quotes.
Do your homework before you hire a real estate drone photographer. Get quotes from 3-4 pros or companies and compare them.
Number of photos and videos
Some drone photographers charge a fixed rate per photo or video, making it easier for you to ask for the right number of images or videos that fit your budget.
Others charge a per-minute or per-hour fee.
Others will charge a fixed base rate for the entire shoot with a specified number of photos and extra charges for additional images.
Although the general assumption is to shoot real estate photos when natural lighting is in plenty, some realtors ask for early morning, dusk or night shots.
Because of the logistics and extra skills required, some photographers may charge more.
---
Final Thoughts
I know I haven't provided any specifics yet. That's because it's hard to. Many factors are influencing the final figure.
Broadly speaking; however, the 2019 costs for a real estate drone shoot are as follows:
$150-$300 for 10 or less still images, no editing.
$300-$1,000 for a 1-5 minute drone video.
$500-$1,000 for editing images or video.
Again, these are general figures. Your final quote will vary based on location, the type of real estate, the kind of logistics involved, and whichever complementary services the photographer provides.
Something else to keep in mind: the above figures assume the photographer is coming with their drone as is typical.
But if you have your drone and are just looking for a photographer to take shots and probably edit them, your costs will be lower.
---