Best 3 Camera Drones Selling Right Now
Typhoon H
$
949
w/ 4K CG03+ Camera Gimbal
With its stable 6-rotor design, optional collision avoidance and a bevvy of advanced trick shots, the Typhoon H is the cheapest way to take high-quality 4K aerial shots with a minimum of effort.
Phantom 4
$
949
w/ 4K camera & gimbal
Single-operator videographers will love the Phantom 4 for its advanced object detection / collision avoidance system, unique tap-to-fly navigation, and a wide range of trick shots.
DJI Inspire 1 v2.0
$
1,999
w/ Inspire 1 camera and gimbal
Designed for serious HD video professionals, the Inspire can be equipped with various camera systems from DJI 4K Zenmuse cameras to Micro Four-Thirds & RAW formats. For 1 or 2 operators.
---
Two NEW Camera Drones To Consider
DJI Mavic Pro: about $999 on Amazon.com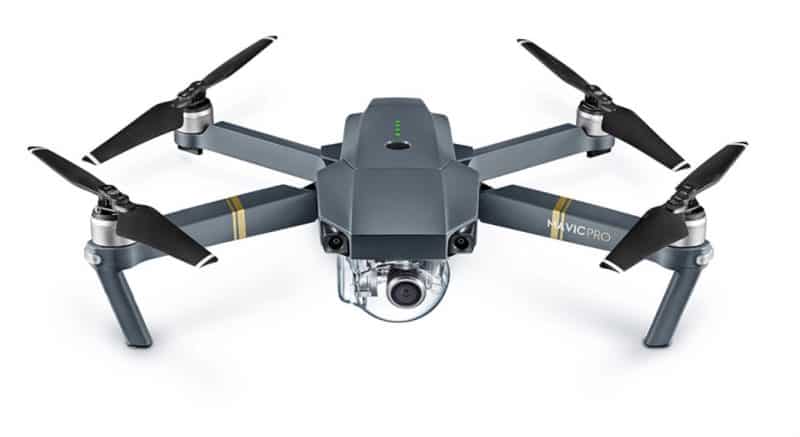 The Phantom 4's more nimble cousin, the DJI Mavic Pro, is perfect for anyone who needs a small, light, highly portable 4K camera drone that's super-simple to fly and shoot.
This cool little package really is portable: the arms fold in so you can easily place it in a backpack. The controller fits in your front pants pocket.
The Mavic Pro comes with the same great DJI tap-to-fly, obstacle avoidance and advanced navigation features as the Phantom 4. It also has a cool tap-to-focus feature that works on objects as far as 25 meters away.
The Mavic appears to be faster and more maneuverable than the Phantom 4, too. Top speed is 40 mph, with a range of 4 miles. You can fly it using the included compact controller or your smart phone.
That said, the Mavic Pro does have a few issues/drawbacks.
First: the camera.
It's very good, but DJI admits that the Mavic Pro's included variable-focus 4K camera is not quite as good as the Phantom 4's. It's got a narrower field of view, and, if your target is less than 25 meters away, you'll have to use the tap-to-focus feature to get a good shot.
Second issue: durability.
Some fliers complain that the Mavic's rotating arms and overall construction are flimsier than the Phantom's.
See Latest Price on Amazon
Note: I haven't had a chance to fully review the Mavic Pro, yet – so keep that in mind.
Until then, check out this great side-by-side comparison of the new Mavic Pro vs. a Phantom, by the guys at FliteTest:
---
Yuneec Breeze: about $399 on Amazon.com
Designed for consumers who want to shoot easy selfie videos in 4K, the Yuneec Breeze is a unique rig that fits somewhere between the outdated Parrot BeBop and a lower-spec'd Phantom 3 or Typhoon 500.
The Yuneec Breeze isn't a high-end camera drone that anyone would mistake for a Phantom 4 or Typhoon H. Its lack of a 3-axis gimbal prevents it from competing on image quality, especially in any kind of wind or rough conditions.
On the other hand, the Breeze is super-affordable, compact, portable and easy to fly-and-shoot. It comes with lots of pre-programmed flight modes and, overall, it takes pretty good shots without a hassle.
The Yuneec Breeze is also easy to fly indoors, thanks to its excellent Indoor Positioning System, which doesn't rely on GPS for position.
Camera storage is limited to 16 GB of onboard internal memory, which is not expandable. There is no micro SD card slot. You transfer stored images to your phone or computer using the included USB cable.
To control the Breeze, you use the Breeze's intuitive app on your smart phone. There is no separate controller.
The downside of using an smartphone for your controller is that useful range is pretty limited.
Overall, the Breeze does a fine job taking crisp 4K selfies and personal videos within close range, indoor or outdoor. It's easy to fly and comes in a nifty plastic travel case with extra props and 2 batteries.
If you've been considering buying a Parrot BeBop (Mark I or Mark II), you should definitely consider getting the Breeze, instead.
See Latest Price on Amazon
For a more details, check out Mike Erb's excellent 10-minute review, below:
---
Welcome My Ultimate Camera Drone Buying Guide
There are dozens of drones with cameras for sale in various price ranges and configurations.
New models & tons of new features are hitting the market, every month.
The truth is, though, that not all camera drones are the same.
Some are well-engineered flying camera platforms that come complete & ready-to-fly with camera, gimbal & software integrated and tested.
Others are outdated junk you should avoid at all costs.
This is why I published this in-depth buying guide to camera drones: so you can avoid making the same mistakes I and many others have made during the past couple of year.
---
What's In This Guide
This is a thorough buyer's guide that will take 15-20 minutes to read.
You'll learn about the features that really matter when selecting a camera drone; the best camera drones selling today; and what to watch out for & avoid when shopping for one.
Above, I list the best ready-to-fly camera drones that will meet most photographers' needs. You can see how they compare on the 8 most important features to consider when shopping for a camera drone.
Below, I explain the most important features to consider in detail, so you can understand how these features relate to the job you're trying to accomplish. In this discussion, I address a few important, but less common, needs such as high-payload camera platforms, industry specific requirements, software, advanced flight controls and other unique requirements.
After you've finished reading this guide, check out our independent reviews of the best camera drones selling today to learn more about the specific drones you like best.
Our camera drone reviews section covers the most popular camera drones sold today, including Yuneec's new Typhoon H and DJI's popular Phantom 3 & 4 series and their new workhorse, the Matrice.
---
Who This Guide Is For
If you are looking for the right camera drone to capture high-quality aerial video and images, then this buying guide was written for you.
If you are a serious photographer who loves drones and is looking to upgrade from the toy you bought a while back, then this guide should help you, too.
Other Guides On This Site
In addition to this guide, we've published other drone buying guides that address the unique needs of a particular industry or interest:
We'll be publishing more like this in the future, so subscribe to our newsletter if you want the latest updates.
I hope this buying guide helps you narrow-down your short list.
Use our contact page or the Disqus comments below to me know about any errors you see or suggestions you may have for this guide – I update it regularly.
Happy shopping 🙂
---
Want A Copy Of This Guide To Read Later?
If you're on a mobile phone or don't enough time read everything right now, then click the button below to have this guide emailed to you as a FREE .pdf eBook that's perfect for sharing with friends and colleagues.
---
Why Buy A Camera Drone?
Because you can produce awesome aerial videos! like these:

1080p shot from a DJI Phantom

1440p shot with GoPro Hero 4 on Phantom 2
As you can see, drone-based aerial videos can be really cool.
But there are far more important reasons so many people and companies are investing into camera drones: flying cameras are helping us work smarter, see better and work far more efficiently in dozens of industries.
Camera Drones At Work
Every day, hundreds of thousands of camera drones perform jobs that people, pilots and satellites have been doing for decades.
Which camera drone is right for your job?
This is why I published this guide – to help you answer that question.
If you aren't a drone expert, then a great way to learn about your options is to take a look at the 3 most popular camera drones selling today and see how they compare on features and price.
---
Want A Copy Of This Guide To Read Later?
If you're on a mobile phone or don't enough time read everything right now, then click the button below to have this guide emailed to you as a FREE .pdf eBook that's perfect for sharing with friends and colleagues.
---
What Is A Camera Drone?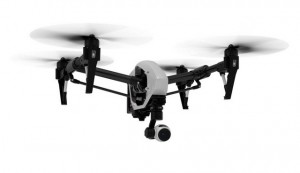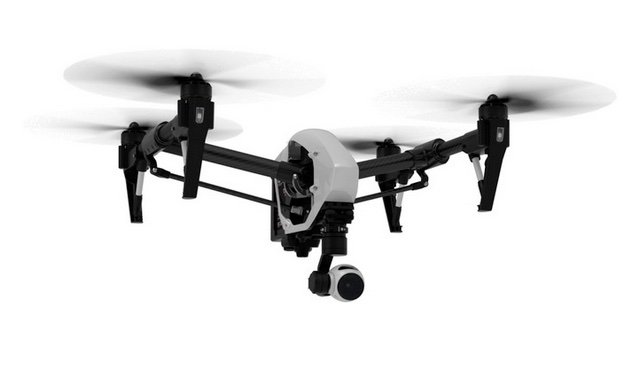 DJI Inspire 1 Camera Drone
A camera drone is a radio-controlled aerial flying platform (fixed-wing or multi-rotor configuration) designed to carry an HD camera that shoots high-quality videos and still photography, vibration-free.
Most camera drones today are multi-rotors like quadcopters, because multi-rotors are exceptionally stable and maneuverable flying platforms.
The most popular camera drones today either come ready-to-fly – with an HD or 4K camera installed – or, they can be easily fitted with a popular 2-axis or 3-axis gimbal capable of carrying a camera of your choice.
Many leading camera drones also come equipped with advanced software-driven features that simplify the planning and production of a video shoot, for example:
pre-flight planning software: create your flight plan by drawing waypoints on a map using a tablet or touchscreen interface
GPS autopilot: execute your flight plan hands-off, via autopilot, so you can focus on getting a great shot
automated trick camera shots: follow-me (3PV), region of interest (ROI) targeting and circle-me are some of the newer automated camera modes making life easier for film makers
safety features: Auto Return Home (RTL), Low Battery Return, and Pause-and-Hover modes are now available in many models. These will help you avoid damage to your aircraft and injury to others.
flight simulator: learn how to fly before risking your equipment
video editing and publishing software
and more
While it may take a little time to master all of the features of your camera drone, today's best-selling drones are exceptionally easy to fly and take crisp, stutter-free HD video and still shots.
Professional vs. Amateur Film Making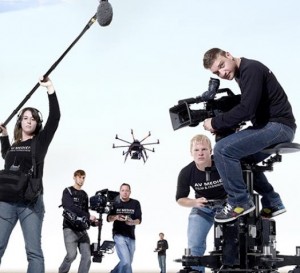 Many popular camera drones are used by both amateur and professional film makers.
However, serious cinema professionals sometimes require flying platforms that can carry heavier, custom camera systems, like the popular super-high-resolution camera, RED Epic.
For example, professional-grade camera platforms like the DJI Matrice 600 can carry 5-10 lb payloads – but they typically cost more than $4,000 and sometimes introduce complexities and choices that most amateurs and semi-pro filmmakers would rather avoid.
In addition to a heavier payload, some of the more advanced features that a professional filmmaker may need in a camera drone include:
2-operator mode: one person flies while the other directs the camera; most commercial films are produced this way
custom gimbal/camera mounts to hold professional video or film cameras & to stabilize the shot
redundant lift power: professional filmmakers often prefer dual-motor and 6- or 8-propeller lift systems to protect their expensive cameras from damage in case a motor fails.
advanced GPS-based flight planning & control systems to plan and execute complex, time-synchronized flight paths & automated camera shots in 3 dimensions
object detection and collision avoidance systems, like the ones offered in the DJI Phantom 4 and Yuneec Typhoon H
advanced camera controls to adjust the camera's aperture, shutter and other settings while in flight
more precise GPS autopilot positioning, using redundant GPS/GLONASS receivers and inertial sensors like the centimeter-level precision available in the DJI Matrice 600.
more durable construction, like the magnesium-aluminum frame used in the new DJI Inspire 2
cinema-quality 5.2k video capture with Apple ProRes / CinemaDNG compatibility, also available in the DJI Inspire 2.
Live Video Streaming
The vast majority of camera drones are used for recording HD video for playback later – not for live broadcasting.
While news stations continue to experiment with live drone video feeds, the resolution and reliability of live HD streaming from drones is not quite there yet. This is because there are lots of technical issues involved with trying to stream live 4K video at 30-60fps.
That said, DJI claims their new M600 hexacopter can deliver reliable broadcast-qualitry HD video from up to 5 km away.
With the FAA's recent approval of the NFL using drones for live video, we expect more drone manufacturers to follow in DJI's footsteps.
Ready-to-Fly vs. Building Your Own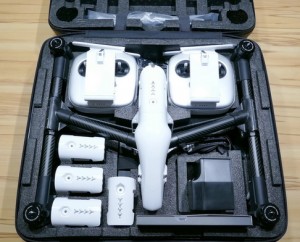 For most amateurs and professionals just starting out, a ready-to-fly (RTF) camera drone is by far your best option.
RTF camera drones like the ones made by DJI, 3D Robotics and Parrot have worked-out the bugs and inconsistencies among their onboard and ground station systems. This integration makes taking high quality shots on every flight as easy and stress-free as possible.
RTF camera drones do sacrifice some flexibility in camera & payload choices, but most amateurs and semi-pro film makers won't notice.
Building your own camera drone from scratch is another option, but it isn't realistic for most people. Instead, most hobbyists prefer to mount a camera and gimbal of their choice to a proven commercial-grade flying platform like the DJI Matrice 600 that meets the minimum requirement for film making and photography – features such as:
accepts professional gimbals and cameras (mounting space and payload capacity)
includes an onboard GPS with an integrated flight controller and autopilot
comes with integrated flight planning & control software
has been proven in the field for camera work.
Custom-mounting a gimbal and camera to a drone requires care due to center-of-gravity and possible equipment interference issues.
In addition, custom-built camera drones may lack advanced camera control and direction such as follow-me (3PV) and region of interest (ROI) targeting.
Finally, warranties may not cover a DIY flying camera.
If you need a camera drone for specialized jobs such as data acquisition, agriculture or surveillance, then you may want to consider purchasing a special-purpose work drone, instead.
Industry-specific drones tend to be more expensive and more complex to operate, however. This is why many professionals opt for "prosumer" drones like the Inspire 1or Phantom 3, whenever they can.
Price
If you're willing to settle for less range and less than 4K video quality, then you can get a decent RTF camera drone for about $500. A great choice in this price range is the Phantom 3 Standard.
Complete, ready-to-fly camera drones capable of shooting 4K video usually cost between $1,000-$2,000. Most flying cameras in this price range offer a LOT of features including: flight planning software, a ground station controller with integrated touchscreen, GPS autopilot, advanced trick camera shots, a 3-axis professional gimbal, and a GoPro 3/4 or similar-quality camera. The most popular RTF camera drones in this price range are the Phantom 4 and 3DR Solo.
For more professional demands – for example, if you need to film in Micro Four Thirds or need a drone that allows 2-person operation – prices generally start at around $2,500 and can go much higher. The leading RTF flying camera in this price range is the DJI Inspire 1 ($2,000-$8,000) which offers many different camera packages including a professional-grade Micro Four Thirds camera system.
If you need to fly a heavier camera rig like the RED Epic, then you'll need to upgrade to a higher-payload multicopter like the Matrice 600 ($4,500), which is capable of carrying 6kg of gear. But heavy-duty flying camera rigs like this cost $6,000-$10,000 after you add a camera and gimbal.
---
Want A Copy Of This Guide?
Click the button below, and we'll send you a .pdf eBook copy of this guide.
---
Features To Look For
The rest of this guide explains the features that matter most when selecting a drone for aerial photography and film making.
Camera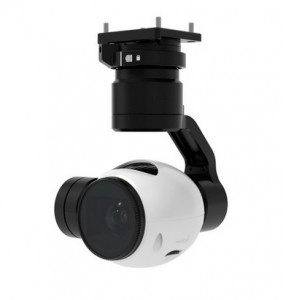 Arguably, the camera is the most important feature of any film maker's drone.
Most leading camera drones use proprietary camera systems these days, for lots of practical reasons. The most important advantages of using the drone manufacturer's camera include:
better control over camera positioning
control over more camera features like shutter speed and zoom
camera features can be be planned, automated & synchronized w/ your flight plan, and executed with the manufacturer's flight control system
The biggest downside of using a proprietary camera is obvious: most can't be swapped out, as technology advances. For most consumers, a proprietary camera system isn't a big deal.
Many professional film makers prefer camera drones with pro gimbals that can accept many different cameras.
The most popular type of third-party camera mounted on flying camera platforms today is the GoPro. It's hard to go wrong with a GoPro, unless you are a commercial film maker and need super-high-quality images suitable for the big screen.
Other popular third-party cameras used in aerial film and photography include:
Canon EOS 5D Mark III
Panasonic Lumix GH4
Sony NEX 7
BlackMagic Pocket Cinema
Camera Mount & Gimbal
The best-quality camera drones like DJI 's Phantom 4 are equipped with a high-quality professional 3-axis gimbal to control camera positioning and to provide a stable image in all conditions.
The quality of your gimbal will make or break the quality of your video image. A camera gimbal takes care of two critical jobs in film making:
camera positioning: a gimbal controls the direction of the camera in 2 or 3 axes using a series of high-precision electric motors; and,
image stability: a gimbal ensures that normal vibrations and sudden movements of the drone do not impact the quality of the image. It does this by using its high-speed electric motors to compensate for motions detected by an onboard gyro.
Digital gimbals like the one used in the Parrot BeBop improve image stability for fixed-mount cameras, but only so much.
Avoid fixed camera mounts if image quality is your priority.
Flight Controller
There are many different types of flight controllers available today, from simple 6-axis RC flight controllers to sophisticated tablet-based controllers that integrate flight status, map overlay, waypoint control and live streaming video into a single display.
Some flight controllers are touch sensitive, allowing you to pinch and squeeze status and video stream windows while you fly.
Drone manufacturers today compete on the differences in their flight controllers and associated software. Every day there's an announcement of some new feature.
That said, take care to ensure that your controller has the following basics covered:
battery life: how long does your controller operate without a battery swap? if it only lasts 30 minutes and the unit reboots on a battery swap, then you may be really frustrated in the field.
manual flight control: make sure you have 6-axis control over your drone using twin sticks. Don't go for novel or fancier designs.
flight control frequency: most camera drones use the 2.4 GHz or 5.8 GHz frequency band for flight control. If yours is switchable, then great, because either spectrum can get crowded in a suburban or urban area.
telemetry data streaming: does your controller provide equipment and flight status to you in real time? telemetry data can be a life saver if your drone flies out of view and has an accident
first person view (FPV) video streaming: does your camera drone provide a live video stream from its onboard camera? is it in HD, so you can see the shot as it will appear on film? can you attach FPV glasses via an HDMI port?
GPS Autopilot
GPS autopilot is a standard feature on the most popular camera drones sold today.
There are three types of GPS systems used to control drones today:
standard GPS: uses a single GNSS receiver chip: accurate to within a meter or two; used on most consumer drones
redundant GPS: uses 2 or more redundant GNSS receivers, typically a standard GPS plus a GLONASS receiver; this is a good choice if you'll be flying over populated areas or any space where losing GIS positioning could be catastrophic.
parallel GPS: two or more GNSS receivers working in conjunction to deliver sub-meter precision; useful where highly precise location accuracy is required, such as covering stadium sporting events.
Most people are fine using a single GPS system to operate a camera drone, but if the speed of satellite acquisition, safety or location precision are critical to your job, then you may want to upgrade to a more sophisticated solution.
Flight Planning & Control
If you want to produce a professional quality film or video, then solid pre-flight planning is essential. This can be done with or without software.
That said, integrated flight planning and control software is an essential part of flying a camera drone today, because it frees the operator to focus only on capturing great camera shots.
The best camera drones for sale like the Phantom 4 include integrated flight planning & control software that lets you visually plan your flight path ahead of time by overlaying waypoints onto a visual map of your flight region.
Later, the waypoint flight plan used to drive the drone's GPS autopilot system to fly the drone with little to no interference from the pilot.
In general, amateur and semi-pro videographers and photographers should avoid camera drones that do not come equipped with this vital capability.
Advanced Camera Control
The drone market continues to release new automated camera control features.
The most popular of these are Follow-Me (3PV) and Region of Interest (ROI) camera modes.
Follow Me camera positioning (sometimes called third person point of view, or 3PV for short) lets a single operator direct a drone to maintain camera focus on the operator while the drone executes an autopilot or manual flight plan.
Follow-Me makes it easy to take an HD "film selfie" of you enjoying your favorite extreme sport and outdoor activities, without needing a second person to operate the drone. In Follow-Me mode, the drone will follow the operator wherever s/he goes using a location beacon that is typically worn on the wrist or as a pendant.
Region of Interest camera positioning maintains the camera's focus on a GPS-defined region, rather than a moving person.
ROI mode is useful in building and construction monitoring, event and tourism marketing, real estate marketing and other applications where the center of action is a fixed location.
Using the right drone, a film maker can program a flight path and add a Region of Interest to do a complete sweep of an area or event, all without touching the controls.
Real-Time Object Detection
The latest innovation in the ready-to-fly camera drone market is real-time object detection, which is the built-in ability to "see" the drone's surrounding terrain in 3D and to recognize objects within it, in real time.
DJI's new prosumer drone, the Phantom 4, is the first ready-to-fly camera drone equipped with this ground-breaking capability. The Phantom 4 does this using a set of forward- and down- looking cameras & sensors that monitor its environment constantly.
Object detection adds another level of intelligence to a camera drone that enables really cool, useful new features such as advanced "follow-me" & "follow-that" navigation, new trick camera shots and automatic collision avoidance (described below).
Automatic Collision Avoidance
Collision avoidance is a feature that drone operators & manufacturers have been dreaming about, for a long time. And now, it's finally here!
Enabled by real time object detection, the newest camera drones like the Phantom 4 can literally see objects in their flight path and automatically route a new course around them.
This feature offers a number of important benefits. First off, you reduce the chance you will crash and damage your drone due to unexpected obstacles.
The second advantage is flight planning can be simplified without increasing risk. With intelligent re-routing around objects, you don't need to worry as much about unseen object like small trees and light poles. Just let your drone take care of it.
Of course, this sounds a lot simpler than it is in practice. If there is an object in your drone's way, then you may not get the camera shot you were after, and you'll need to re-plan and fly the shot again.
But at least you didn't destroy your aircraft!
Streamlined Video Editing
Don't overlook the software provided by the drone manufacturer. Specifically, apps that streamline video editing and publishing sequence. After all, editing video usually takes more time than shooting.
After capturing that great trick shot, wouldn't it be awesome if you could review the clip right on your flight controller – and even edit it?
Well, with the newest popular camera drones, you can.
For example, DJI offers a free mobile app, the DJI Video Editor, with every Inspire and Phantom drone. The app runs on the same device you use for flight planning, GPS tracking, live video feeds and telemetry.
This sort of integration makes fly > shoot > edit a breeze.

Flight Time
Flight time is critical, obviously, for any filming or photography job.
Most quadcopter-style flying platforms have a useful flying time of 10 to 25 minutes.
But some of this time is eaten up flying to and from your camera target, so the majority of ready-to-fly camera drones will deliver 10 to 15 minutes of useful camera time before having to return to base.
If more time is required, a fixed wing drone may be used. Fixed wing camera drones are capable of flight times up to 1 hour. However, due to the speed they operate, the quality and flexibility of film making is reduced.
Alternatively, you can use multiple drones to shot specific sections of your shot's flight path.
Flight Ceiling
Flight ceiling is usually not an issue with most camera drones, because the shot is almost always focused on the ground or on a building.
But if you are filming wild geese flying, parachutists or base jumpers, then be aware of the limitations.
Flight ceiling is almost always artificially imposed by the drone's software, a line of sight limitation or the wireless radio's range, not by the flying platform itself. By replacing the controller with a more powerful unit or by upgrading your software, you may be able to dramatically improve the ceiling of your drone.
Speed
Most ready-to-fly camera drones cannot fly much faster than 50 miles per hour in a straight line, with zero wind resistance. That's OK, since the typical speed used on most video shoots less than 20 mph.
If your camera target frequently moves faster than 30 or 40 mph, then you may need to look at a fixed wing camera drone or you may want to attach a gimbal to a racing drone (up to 100 mph).
Range
Many camera drones are capable of operating up to 1 km away from the controller, sometimes as far as 2 km with wireless boosters.
That said, weather conditions and radio interference in the environment can reduce effective range by as much as 90%.
A camera drone's effective range is a function of the quality of the wireless connections used for the radio controller unit, the video streaming channel, and the telemetry channel (if separate from video). The less crowded the frequency band, the more chance you have of flying a long distance and streaming HD video when you arrive.
If you need long-range operation, then make sure your drone & controller use the latest wireless/radio frequencies & technologies approved for drone use, such as 5.4GHz or 5.0 MiMO.
Safety
There are two kinds of safety to worry about when operating a camera drone: the safety of the drone and the safety of people it could fall on.
The most important safety features to get in a camera drone include
Prop Guards to protect people from being injured by sharp propeller edges, and to protect your drone from trees.
Return Home: automatically return the drone back to launch location, using a single button.
Emergency Landing: if problems are detected by the drone such as low battery life, automatically attempt a safe, controlled landing or execute the return home mode.
Auto-Hover: sometimes called a "Panic Button", hover mode immediately stops all forward motion and hovers in place. Important when wind or weather conditions temporarily ruin a shot; or, if you lose sight of the drone and no longer have video stream or telemetry data to confirm its position.
Flight Tracker: monitor and log your aircraft's GPS position throughout its flight. Important if you fly beyond line-of-sight. The Flytrex 3G is a great choice (about $180).
Wind Resistance
The vast majority of camera drones are used outside. So, wind resistance is important to understand.
The truth is, every quadcopter is at least somewhat wind sensitive and will be impacted by winds greater than 20-30 miles per hour.
If your environment experiences regular high gusts of wind, then consider using a fixed wing drone instead.
Water Resistance
This is one feature where drones differ dramatically.
If you're taking shots of any sort of outdoor sports, then you will want your camera drone to be water resistant (IP5 or IP6) at the very least. You can't control the weather, after all.
If your video flights are over open water (chasing boats or skiers), then you also need your drone to float – and to identify its location if it splashes down.
Most camera drones today DO NOT FLOAT.
The few that do are water resistant enough to continue operating, which means they will continue to identify their location – until the battery dies.
Warranty
Warranties for most ready-to-fly camera drones like the Phantom 3 generally last 1 year and cover all parts including the camera and gimbal.
If you custom-build a camera drone, then only the flying platform is warranted – your camera & gimbal are your problem.
Replacement Parts
This is where the brand you buy can make a big difference. There are thousands of drone manufacturers today, but most of them are really custom job shops who assemble other company's parts.
Replacement parts are easier to obtain and often cheaper for the most popular camera drone manufacturers. DJI, 3D Robotics and AR Parrot, produce 80% of the camera drones sold today, so if their products can meet your needs you're probably better off.
---
Get Trained
Most drone buyers today are first-time flyers, and taking great shots from the air is not easy to do. It takes a lot of practice to fly, point and shoot in 4 dimensions (x, y, z and velocity) using a remote camera.
If you don't want to destroy a few drones ($$$) and cameras ($$) and waste weeks learning how NOT to fly a camera, then I recommend you get trained by experts.
Even if you have a pilot's license, then I recommend getting trained on the following techniques and topics:
how to fly a drone safely
how to fly a drone on GPS autopilot
how to get great aerial shots: aerial photography and videography
how to edit and process high-resolution images and video using the latest software tools
The good news is there are several options today for getting trained, either in person or online.
Online Courses
I prefer online courses, because they are self-paced and flying a camera is a hobby for me.
Here are a few courses I can recommend:
How to Take Great Aerial Shots & Edit Them (using FCPX or Adobe Premiere): Stunning Aerial Videography and Photography Using Drones by Bruce Geddes, Aerial Videographer, Photographer and Expert. This is a hands-on 7 hour course that teaches you how to plan your flight and your shots together, how to take shots and how to edit and add effects to your images and video. Cost: $99 on Udemy.com (5-star rating with over 1,000 students to-date).

How to Fly a Drone Safely: for a school or class near you, check out this comprehensive list of UAV training courses on DroneTrainingHQ.com. Also check out the $3500 UAV Certificate course offered by Unmanned Vehicle University.
---
Learn More
SEE MY CAMERA DRONE REVIEWS
---
Grab A Copy Of This Guide
Click the button below, and we'll send you a .pdf eBook copy of this guide that's perfect for reading later and for sharing with friends and colleagues.
Avid drone/UAV enthusiast for many years.
By day, I design websites and mobile apps.
Latest posts by Andrew Nixon (see all)