Marketing a real estate property is one of the most difficult things to do in business today.
The competition is brutal, partly because online listings generate most of the leads. Almost every property buyer today begins her search online.
So, it can be really hard to stand out from the pack.
---
How Drones Have Changed Real Estate Marketing
That's why differentiating property listings through high-quality photography and video pays huge dividends.
Today, the latest marketing weapon in real estate is dramatic camera drone photography & video tours in online listings.
Some agents claim that drones are the most important new technology to enter real estate marketing since the internet.
It's easy to see why.
Using flying cameras, real estate photographers are producing dramatic, sweeping shots of landscapes, ocean and mountain vistas, and seamless fly-around of gorgeous home exteriors.
They are also taking shots of homes never before imagined,
Like… flying down onto a property from 200 feet in the air, highlighting the details of a large, expensive property in dramatic form; then, flying fast 2 feet above a driveway right up to the front door…
Camera drones and their ground-based cousins, Glidecams, are also being used to tour the inside of a home, creating a flowing, whole-house motion tours in ultra HD that can rival a Hollywood movie…
---
Limitations of Drones In Real Estate Photography
That said, a drone will never be able to shoot ALL of the photography & video needed to market a listing. There are still certain kinds of photos and videos that a flying camera is not well suited for, including:
Carefully-focused, fixed position photography. For example, shots designed to avoid an unpleasant feature or help a room or yard appear larger.
The interiors of smaller spaces, such as condos or apartments
Homes shrouded by trees or other buildings.
Standard street-level shots that all buyers have come to expect in a listing.
So don't fire your favorite photographer yet. Instead, ask her when she'll be getting a drone.
---
The Best 3 Drones for Real Estate Photography/Videography
If you are considering purchasing a drone to record videos and photos for real estate listings, then consider these three popular choices used by many real estate drone photographers today. (Note: the Phantom 4 is the latest in a long line of Phantoms, by far the most popular flying platform used by real estate photographers).
All three choices are ready-to-fly flying cameras that come complete with a 4K camera, 3-axis gimbal, flying platform, live video, advanced flight control software and a flight controller that are work together as a single product. Each one also carries at least a 1-year warranty.
Best budget drone
Low price
2.7K HD video and 12MP stills
Lightweight and foldable
3-axis mechanical gimbal
30-min flight time
2.5 mile range
Automatic flight and shooting modes
Best overall
An all-round package that's ideal for most real estate projects
1" CMOS sensor with 20MP stills and 4K video
3-axis gimbal
High dynamic range
31-min flight time
OcuSync 2.0 controller with 6.2 mile range
Automatic flight and shooting modes
Omnidirectional obstacle sensing and avoidance
Best 4K drone for pros
1" CMOS sensor with 20MP stills and 4K/60fps video
Mechanical shutter
OcuSync 2.0 controller with 6.2 mile range Design
Omnidirectional obstacle sensing and avoidance
30-min flight time
Automatic flight and shooting modes
HDR video
---

Pros
Budget price.
FAA registration not necessary.
Long flight time.
Great video and image quality.
Ultra-compact and portable.
Perfect for indoor and outdoor shots.
Cons
No 4K video.
No obstacle avoidance.
Our Review
It doesn't have some of the cinematic flight modes of pricier drones and lacks 4K video. But who watches 4K real estate video anyway? You'll be okay with a resolution between 1080p and 2160p. You can also use the DJI Fly app to create more cinematic shots.
Because of its ultra-compact size, the Mavic Mini is especially suited to indoor real estate shots. But it also does a great job outdoors.
The Mavic Mini boasts an impressively long flight time, giving you plenty of time to complete a video.
Professionals may want a more capable drone, especially when handling high-end real estate projects. But for beginners and pros looking for a budget real estate drone, the Mavic Mini is the best choice.
---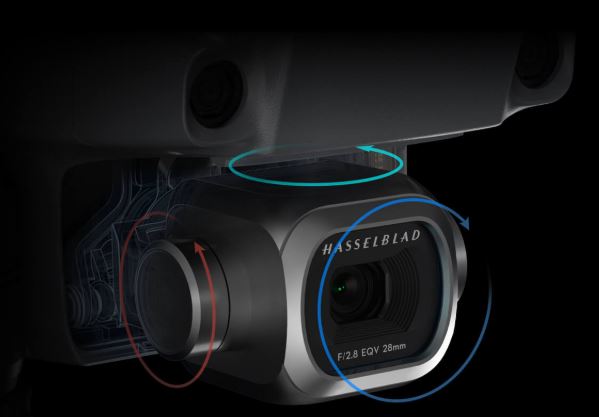 Pros
High-quality 4k video.
Multiple flight and shooting modes.
Long transmission range.
Obstacle sensing.
Long flight time.
Cons
A bit pricey.
Internal storage is not much – you'll need an SD card.
Our Review
The Mavic 2 Pro is a good choice if you want a drone with a 4K camera and a wide range of flight/camera modes to help you pull off cinematic shots.
It's a pricey investment, but we think it's worth it.
The camera features a 1″ CMOS sensor for improved low light performance. Combined with the 4K resolution, f/2.8 – f/11 adjustable aperture, and HDR video, you can create some truly stunning shots.
To help you with that, the Mavic 2 Pro comes with a wide range of automated flight and camera modes, including ActiveTrack, Panoramas, Free, Circle, WayPoint, and Hyperlapse.
The new OcuSync 2.0 controller lets you view live 1080p video from up to 6.2 miles away.
To keep you from crushing and potentially damaging your client's home, the Mavic 2 Pro has obstacle sensing and avoidance sensors all round.
Some professionals may find the Mavic 2 Pro still a bit limited for their needs, but for most real estate photographers and videographers, the Mavic 2 Pro is an excellent choice.
---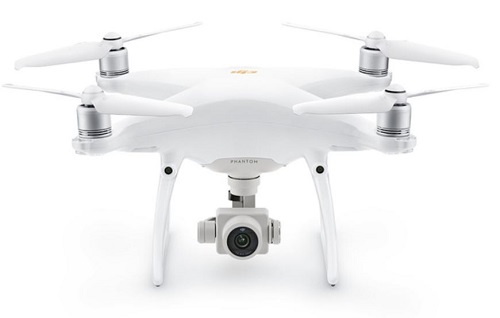 Pros
4K/60fps video.
Long transmission range with HD live view.
Adjustable aperture.
Automated modes for cinematic shots.
Multi-directional obstacle sensing and avoidance.
Mechanical shutter for high-speed shots.
Cons
Pricey.
No internal memory.
Reduced portability.
Our Review
The Phantom 4 Pro V2.0 is very similar to the Mavic 2 Pro in-camera and flight performance.
You get the same 1″ CMOS sensor with 4K video and 20MP stills. However, there's a slight difference in video quality.
If you don't like the 30fps limit in the Mavic 2 Pro's 4K mode, you'll love the Phantom 4 Pro V2.0. You can shoot at 4K/60fps. This means smoother videos, especially when shooting a location with many moving objects nearby like cars (e.g., a townhouse).
The Phantom 4 Pro V2.0 also comes with a mechanical shutter, which reduces image/video distortion when you are flying the drone at high speed.
As for flight performance, the Phantom 4 Pro V2.0 has a 30-minute flight time and omnidirectional obstacle sensing and avoidance.
It comes with the new DJI OcuSync 2.0 controller with a transmission range of 6.2 miles. If you want it, DJI offers an upgraded controller (for about $450 more) with a 5.5″ screen and a built-in DJI GO 4 app.
The Phantom 4 Pro V2.0 also comes with multiple automated flight and camera modes. One that's useful for real estate is Draw Mode. You draw a virtual route on the app (on your phone, tablet, or controller), and the drone will follow it while maintaining altitude.
Draw mode can help you plan the right path around and over the house to show off the best features in one continuous shot.
Overall, the Phantom 4 Pro V2.0 is a great choice for pros who want a 4K camera drone with a 60fps frame rate. It's also a good choice for pros looking for a versatile camera for general videography and photography, not just in real estate.
Keep in mind, however, that the Phantom 4 Pro V2.0 is heavier than the Mavic 2 Pro, and it's not foldable. It's still fairly easy to carry around, but it's not as portable as the other two picks above.
---
6 Benefits of Using Drones to Market Real Estate
How do real estate agents and brokers benefit from using camera drones in their marketing in the real world?
1. Create more dramatic, compelling images.
Using a modern ready-to-fly camera drone like the Phantom 4, you can create dramatic shots very easily (almost on auto-pilot) by combining GPS-programmed flight paths with automatic point-of-interest camera targeting.
Well-designed drone camera shots not only look incredibly professional; they can generate a sense of awe and interest that you simply can't get from ground-based photography.
2. Create more interesting virtual tours.
A camera drone can fly into a home through the front door and travel throughout every room, creating a far more natural virtual tour than station-based photography.
Combined with a professional voice-over soundtrack, virtual tours can become beautiful visual stories, rich with information and history.
3. Highlight more property features.
Landscaping, pools, walking paths, and back yards are important to many buyers. So are nearby parks and schools.
Aerial photos & videos bring these advantages to life.
4. Generate new business.
Using drone videos and photos to market your properties shows prospective sellers that you take advantage of every opportunity to make their property look awesome – and to stand out.
5. Out-market the competition.
It's a well-known fact that listings that look better and provide more information sell better.
6. Save money.
Compared to shooting aerial photos from a helicopter or a fixed-wing aircraft, drone videography is far cheaper – and easier to arrange.
---
Drones in Luxury Home Marketing
The visual advantages of camera drones have most impacted how expensive luxury homes are presented on the MLS and agent's websites.
Buyers of multi-million dollar homes often shop online first, so they expect high-quality photography and video in the online listing, or they won't bite.
It's hard to argue that in the luxury property market, drone photography has upped the real estate marketing game in a big way.
Whether it's to highlight the waterfront view, a gorgeous garden, or a cool swimming pool, aerial drone photography captures the beauty and the utility of a home far better than ground-based photography or video can.
Luxury property markets across America, Canada, and Europe incorporate drone photography into their marketing very quickly.
According to Joe Houlihan, managing partner of Houlihan & O'Malley Real Estate Services in Bronxville, NY, drones were used to photograph about 20 percent of their higher-end Westchester, NY, properties in 2015. In 2016, Mr. Houlihan expected to increase that to 35 percent. "It's an additional cost that's pretty reasonable," he says.
In the ultra-luxe Silicon Valley market, drone photography has entered the real estate world in a major way.
All across the San Francisco Bay area, "drone videographers" exist that specialize in producing dramatic aerial videos and movie-studio quality property walkthroughs, using a combination of camera drones and handheld gimbals.
2015 was the year of high-end marketing experiments; today, every level of the market is using drone-based video and photography.
---
Drones In Commercial Real Estate
Drones are used to market commercial real estate, too.
In cities across America, Europe, and Asia, drones are used to plan and photograph high rises and other residential multi-unit projects to help them sell or for inspection and surveying.
Views: 615 S College Street from PortmanHoldings on Vimeo.
Drone footage is also being combined with 3D/CAD models to simulate the look and feel of large commercial developments:
---
Commercial Photographers Are Quickly Embracing Drones
The first FAA Sec. 333 exemption for a real estate drone operator was handed out in January 2015, to Douglas Trudeau of Tierra Antigua Realty in Tucson, Arizona. By getting the exemption, Doug became the first real estate agent to legally fly a drone for real estate photography.
Since then, the use of camera drones to market real estate has taken off in the United States.
Out of the first 1,000 FAA exemptions given to commercial drone operators, more than 350 were for real estate marketing.
The commercial photography industry is embracing drones to meet the fast-growing demand for high-quality aerial video and photography.
In Chicago, the major photography studio, VHT, recently hired several certified camera drone operators to meet demand.
VHT's Chairman, Brian Balduf, said he expects drones will be used on 20% of their shoots by the end of 2016.
---
The NAR Weighs-In on Drones

One day soon, drone video or photography in real estate listings may be a minimum requirement in many markets.
That's because, from the top-down, the real estate industry is embracing drone/UAV photography as an important and valuable emerging technology.
As Tom Salomone, president of the National Association of Realtors put it,
Drone technology offers a tremendous opportunity for the business of real estate and the broader economy. That's why NAR continues to support the integration of drones into the National Airspace and a regulatory landscape that allows for the responsible commercial use of drones.
The NAR recently compiled a Field Guide to Drones and Real Estate. It's worth taking an hour to read the materials they've compiled.
---
Tips On Using a Drone for Real Estate Marketing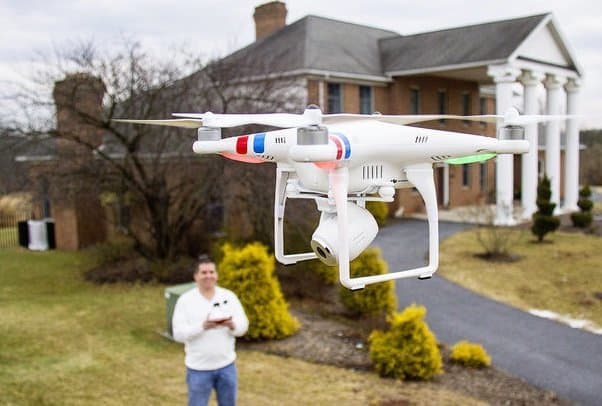 Whether you are outsourcing the work or doing it yourself, it's smart to learn from others who have gone before you.
Here are a few guidelines the think about before planning your first drone shoot:
Hire a local drone professional.
There are several reasons you don't want to start taking drone shots on your own, day one.
First off, it takes many hours (weeks) of practice to learn how to fly and take great shots in 10-minute flights, over and over again.
Second, in the US, you need an FAA UAV operator's certificate (per Part 107) to fly a camera drone for real estate marketing – even if funds aren't changing hands.
Third, you can learn a lot from a professional just by talking, watching, and listening. If your business plan calls for buying and operating your camera drone, go ahead and visit the first shoots, ask questions, and use our 10-point checklist below to learn how the pros do their job.
The bottom line, if you're experimenting with your first one or two listings, then definitely outsource the work.
That said, it's not THAT hard to learn to fly and shoot great video and images with a drone. Many agents today are flying their shoots with easy-to-fly camera drones made by DJI, 3D Robotics, and Yuneec.
Have realistic expectations.
Getting high-quality drone shots will cost more than a land-based photographer, and shooting aerial footage takes more time than a ground-based photo or video shoot.
It's not an order-of-magnitude change, but you'll need to be flexible with your photographer's time, especially if s/he is new to drones.
Buy the right camera.
To take high-quality shots, you'll need the right camera.
The cameras and gimbals on higher-end ready-to-fly drones like the DJI Mavic Pro series, Inspire Pro, and Phantom 4 Pro come are more than up to the job for capturing crisp, smooth, and clean 4K exterior video. 
Getting the right camera is even more important for shooting inside a home – to handle the light exposure issues frequently encountered as your glide cam flows through windowed rooms. 
Here is one professional's set up for shooting the interior of a $20 million home:
Take long, steady shots.
Those awesome real estate drone tours listed above? Yeah, they were edited down from much longer clips.
You'll need to capture raw footage that can be cut down to size after you return to the office or your home.
If you want to shoot a 1-minute fly around, then shoot two or three 90-second trips in a row.
Always use a 3-axis gimbal.
A high-quality 3-axis gimbal like the integrated set used on the Phantom 4, above, cradles the drone's camera in a gyroscopically-balanced mount that holds the camera steady while the drone moves around. It also uses electrical motors to orient the camera while in flight.
3-axis gimbals enable super-steady, flowing shots and insulate the camera from most vibrations. They are the secret to getting those gorgeous, flowing videos you see online.
Do NOT fly your video shoot using a camera drone that isn't equipped with a 3-axis gimbal, or you won't like the result.
The best camera drones for real estate (see our three picks, above) tightly integrate their gimbals with their flight control and camera control systems, so you can control more aspects of your shots like zoom, pan, and tilt.
Add Glidecam/Steadicam footage to create a seamless video tour.
A Glidecam/Steadicam (like DJI's Ronin pictured above) is a handheld version of the same 3-axis gimbal that most high-quality camera drones use to keep their shots steady vibration-free.
You mount your DSLR or HD video camera on it and use your hands to orient the shot. The camera swings freely in its mount, insulated from sudden moves and vibrations.
In real estate marketing, Glidecams & Steadicams are used to take smooth, immersive ground-level video tours, especially walk-ins, walk-throughs, and walk-outs.
Because the quality of video shot from a Steadicam looks identical to a camera drone's video, using both of these methods on your shoot means the result will look seamless. This is especially important if you want to mix-and-match interior and exterior shots into a single clip.
Watch this short video by Stephen Garner for a more detailed explanation of how Glidecams are used in real estate photography.
Shoot your most important footage 2 or 3 times.
Lighting changes, weather changes, and vibrations come and go during each flight.
You won't catch these subtleties by watching the live streaming video on the controller's screen. So shoot every shot 2-3 times. You can edit out the bad parts later.
Fly with the wind, not against it.
This is important. Most camera drones are quadcopters, and quads do not fly well in winds greater than 20-25 knots.
This is not just about flying into the wind; higher wind speed equals more turbulence – which generates less predictable movement and vibrations.
Also, keep your shots low if you can – wind gusts happen more frequently the higher you fly.
Your best bet is to choose a near-windless day for your shot.
If it's windy and you have to shoot, then stick to flying below the tree line.
Prepare a flight plan + a camera plan in advance.
This is where the flight control software that comes with your drone matters.
The best-integrated camera drones like the Phantom 4, 3DRobotics Solo, and Inspire 2.0 are equipped with integrated flight planning + camera control software that let you map-out each camera position in 3D, over time. You can also plan camera angles, tilt, and zoom on some models.
Lean on automation
The newest models, like the Phantom 4 (read our review), are equipped with advanced automation features like object detection & collision avoidance and automated trick camera shots that make taking professional footage a breeze.
By selecting the right RTF camera drone from the get-go, you'll save a ton of time and get far better shots than trying to control everything yourself.
Fly safe!
The three key obstacles for a drone operator to manage around are trees, wires, and people.  Failing to navigate two of these safely will destroy your drone, and hitting the other could destroy your bank account – or put you in jail.
So, if you are going to operate your camera drone for commercial purposes, then definitely get professional training before you start shooting.
There are local drone safety courses available in most cities. Take one.
Another great option is to take the 3-day intensive flight training & safety course offered by FLYSAFE, starting around $500.
Learn how to shoot like the pros.
Yes, many of the leading camera drones are easy to fly and shoot. But getting great video and photos is mostly still about knowing how to set up your shots correctly, and how to avoid making rookie mistakes that ruin them.
Learn as much as you can from professional photographers who have years of experience flying aerial shoots.
To do this, you can take an inexpensive 2-hour course on Udemy, for example. Or a more in-depth 6-hour one.
There are online and local drone flight schools available, too.
---
How Much Does Drone Photography Cost?
If you're outsourcing the work to a camera drone operator, you should expect to pay $200-400 to hire a professional drone photographer to produce a 1-minute video plus a dozen still photos. For detailed video tours of every room, you might pay in the low $1,000s.
If you want to do it yourself, you will pay $1,000 to $3,500 for a professional-grade ready-to-fly camera drone with a 3-axis gimbal, a suitable 4K camera, spare parts, and a hard case to carry it.
See Reviews of The Leading Real Estate Drones
For full-time realtors and larger brokerages, there is a pretty solid business case for buying a couple of camera drones and taking your shots – assuming that you understand the risks and the legal / certification requirements that come with the job.
Most real estate agents outsource their photography, however.
---
Hiring a Camera Drone Operator: A 10-Point Checklist
If you're in the market to hire a camera drone operator or photography firm to shoot your property, then here are the ten items we recommend you cover with them before ordering the shoot:
FAA Certified? Does your firm have an FAA Part 107 UAV Operator's Certificate in-hand? (ask to see a copy)
Liability Insurance:  Does your firm carry at least $1mm+ in liability insurance coverage that specifically covers piloting a drone for real estate photography?
Client References: Please send me web links to 3 listings or property websites that contain your work.
Interior Video: Can you also shoot interior stabilized video?  Many drone operators use handheld gimbals to shoot interior and ground-based video that match the quality of their aerial shots. Important if you want both.
Pre-Shoot Planning Checklist: Please share your pre-shoot planning checklist, so I can understand how you work.
Price List: how much do you charge for each of the following? (you should always ask for a fixed price for deliverables, not billed by the hour)

one 60-second 4K aerial video of a single-family home
15 high-quality still shots taken inside and outside of the home
one 30-second interior video

Lead Time & Weather Conditions:  How much lead time do you need to prepare and show up onsite? What would weather & wind conditions prevent you from shooting?
Deposit, Cancellation & Rescheduling Policy:  Are there any fees or cancellation penalties if we change our minds? How much lead time do you require?
Copy of Blank Contract:  Ask for a copy of a blank contract ahead of time, so you can check for insurance and certifications, indemnifications, etc.
---
Legal & Safety Concerns
Whether you are flying the drone yourself or hiring a drone photographer, you need to be aware of the legal and safety risks of operating a flying camera.
If a drone you are operating wanders into another aircraft's flight path, or if it falls from the sky, it presents a real and significant threat to life and property.
That's why flying an unmanned aerial vehicle (UAV) is an act that is carefully regulated by the FAA and by state and local aviation officials.
We've compiled the latest FAA regulations and certification requirements in our Drone Safety Guide, and the latest news can be found here. Make sure you read both of these before heading into your first project.
Here the short version:
FAA Drone Registration
If you own a drone larger than 0.5 lbs in weight, you must register your aircraft with the FAA. You cannot fly a drone heavier than 55 lbs in the US without a special FAA exemption.
Registering a drone is easy to do on the FAA website, and it only costs $5 to register as many drones as you own.
Unregistered drones are subject to a fine of up to $25,000 per aircraft.
FAA Flight Restrictions
While some of the FAA's rules have yet to be finalized, the following guidelines are in place today:
Restricted air spaces: No drones may be flown within five miles of an airplane terminal.
No flights over people: unless you have written permission from every single person you fly over, then you cannot do it.
Flight ceiling: commercial drones cannot be flown at an altitude of more than 400 feet.
Line-of-Sight rule: Drone pilots must maintain visible eye contact with their aircraft at all times.
Drone Pilot Certification
A person who operates a drone for any type of commercial purpose – which includes taking photos for a real estate listing – whether they are paid for it or not, must have a drone/UAV operator's certificate from the FAA.  You get that by passing a test issued by the FAA.  
If you have a COA / pilot's license, certification is easy to get.  If not, then the test is more involved.  To find a suitable preparatory course, check out our Drone Operator's Training Guide.
A person who doesn't have an FAA certification in-hand breaks the law when they take aerial photos for you.  So don't let people like this do your shoots. You could be held liable if something goes wrong. For example, if the drone crashes through a window or injures someone.  So check their papers.
---
Get Your Contracts Right!
If you are a new aerial photographer/drone operator, then you need professional legal help when setting up your contracts to protect yourself from the issues above (and more). DroneLaw.Pro offers operators contract templates, training videos, and a unique "Ops In A Box" business setup kit.
If you are interested in hiring a drone/UAV photographer for a real estate shoot, make sure you know what a good drone contract looks like. 
---
Drone Insurance
While the risk of damage and injury by drones is very low, it's not zero.
This is why you should demand that every drone operator you employ carry commercial drone insurance with at least a $1 million limit of liability.
If you fly the drone yourself, then check with your commercial insurance agent to make sure that drone operation is covered by your existing business liability policy.
To learn more about drone/UAV operator insurance, read our buying guide, Drone Insurance: Where To Buy It & How Much To Get.
---
The Future of Drones in Real Estate
Aside from shooting cool videos of expensive oceanfront homes, drones can also help with a myriad of dull but necessary real estate related jobs, including:
property appraisals
home inspections
documenting hurricane and fire damage
monitoring land erosion
documenting property lines and
visioning, and master planning.
Using special software, drones are used today to create finely-grained 3D models of buildings and landscapes in the land development, construction, and mining industries. The same tools may one day help real estate developers make better use of limited resources and design homes to fit more naturally in a particular environment.
The future of drones in the real estate and construction industry has yet to be fully written.
But so far, it's looking pretty good – from up here 😉
---
Which Companies Use Drones for Real Estate Photography 
The real estate sector has mostly embraced drone technology in marketing properties. Many realtors and realtor companies have added a drone to their photography kit to give their clients' homes the best chance of selling.
Other companies find it easier to hire professional drone operators rather than buying, operating, and maintaining their drones.
So many drone services companies have added real estate drone photography and videography to their list of services.
---
Do You Need A License For Real Estate Drone Photography? 
While using your drone for any kind of commercial work, then you must pass the Part 107 test and get FAA-certified as a commercial drone pilot.
If you are a drone operator planning to start shooting real estate photos and videos, get this certification before you look for clients.
If you are a realtor or property owner, don't hire a drone operator without checking for certification.
---
How to Find Clients?
The easiest way to find clients when starting with your drone is to join a drone pilot network or directories like DroneBase or SkyTango. Clients will find you and verify your qualifications more easily when you are part of a network or directory.
You can also self-advertise, as either a business or an individual. Use social media and Google for advertising your services in specific areas. 
Another option is to offer free shots in the beginning. Call or approach realtors in your area and offer them free services. If they like your work, you just might get steady work.
Whatever path you choose, remember word of mouth is a big deal. Provide the best service, and clients will tell other potential clients about you. Also, ask your first clients to spread the word.
---
How Much to Charge for Real Estate Drone Photography
It depends on your level of skill, the kind of service packages you offer, and your location.
If you are just starting, $30/hour is a reasonable rate. As you build your portfolio, you'll be able to charge more.
You can also charge more if you offer additional services in addition to drone photography/videography. For instance, adding video editing and street-level photography (with a normal camera) to your packages allows you to charge more.
If you offer your services in an expensive market like New York or Los Angeles or Boston, you can certainly charge more.
While a per hour rate is the most common way of pricing drone services, some drone operators prefer charging on a package basis. Crunch your numbers and study your market to decide which is better for you.
---
How to Choose the Best Drone for Real Estate Photography and Videography?
Here's what to consider when choosing a drone for real estate photography.
Camera
We highly recommend a 4K drone camera. Most real estate websites today and other platforms such as YouTube accept 4K resolution, and many smartphones can play 4K video.
4K video looks crispier and sharper than other resolutions.
But don't worry if you want a cheaper drone that doesn't have 4K video. If it can record in at least 1080p, it'll work, but plan to upgrade as you grow your business.
Other camera features to consider include HDR, adjustable aperture, FPS limit at different resolutions, and aperture size.
Check if the drone offers any automated shooting modes. These make it easy to make cinematic videos, even if you don't have much experience.
Flight Performance
The first thing to check when it comes to light performance is battery life. We recommend getting a drone that can stay in the air for at least 25 minutes. That will give you enough time to shoot multiple features and areas of the house.
Regardless of battery life, it's a good idea to always carry an extra battery or two.
Also, check if the drone has obstacle sensing and avoidance. This is especially important when shooting a house that's surrounded by other buildings or trees.
Live View
Most drones nowadays offer a live view through a phone, tablet, or controller. The live view shows you what the drone camera is shooting, making it easier to choose the best flight path and angles.
Check the max transmission range (get a long-range drone if you shoot many mansions with huge compounds), and the live video quality (720p or 1080p is acceptable).
Portability
Finally, check the weight of the drone and whether it is foldable. If you plan to offer services over a wide area or in multiple states, you need a drone that's easy to travel with. In that case, get a lightweight drone that can be folded down for easy portability.