Our Take
The Phantom 3 Standard is an affordable, fully integrated camera drone that includes an intelligent system that makes it easy to fly and film up to 1 km away using built-in Lightbridge technology. Within minutes after you unbox it, the Phantom 3 Standard is ready to fly & shoot Ultra-high quality video.
It's also the best-value HD camera drone on the market today.
The Phantom 3 Standard's closest competitor is 3D Robotic's new Solo Quadcopter. At $999, the 3DR Solo is more expensive; on top of that, you'll have to buy a camera and a gimbal, which can send the price to almost $2,000.
On the other hand, the Solo offers GPS autopilot and advanced flight and camera controls that the Phantom 3 does not (although DJI says all of these features are coming soon – see details below).
In our opinion, the Phantom 3 Standard is an excellent choice for your first camera drone. Assuming DJI makes good on their promise to offer waypoint GPS autopilot and advanced flight modes, the Phantom 3 Standard offers hard-to-beat value.
RC Receiver
The included RC receiver holds any smart phone or tablet, which is used to display the DJI's superb Pilot App and live 720p HD video feed from the aircraft's onboard camera. The receiver and your device communicate via WiFi.
Using the controller, you operate the Phantom 3 Standard while enjoying immersive, live HD view of everything below on your smart phone or tablet – up to 1/2 mile away.
PC Ground Station
DJI Go App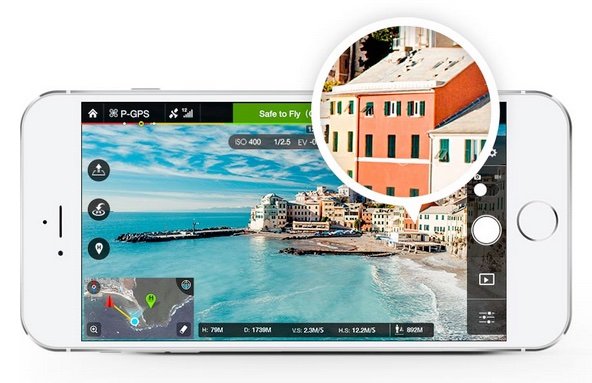 The included DJI Go App runs on your phone or tablet, allowing you to see and control everything through one screen:
live scrolling map provides real-time awareness of your location and surroundings
control the camera
control your flight settings
view live flight telemetry including altitude, speed and direction
view your flight log
edit, publish and share video straight from your phone or tablet
DJI Video Editor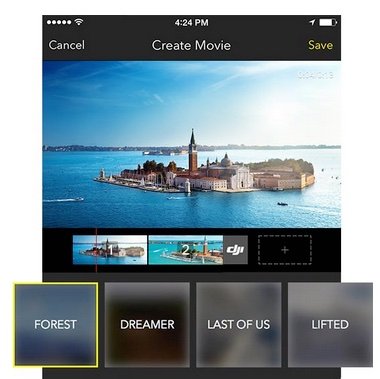 Using the DJI Video Editor app on your smartphone or tablet, you can:
Create professional-looking movies in minutes
Choose from several pre-defined templates
Automatic Flight Assistant
The Phantom 3 Standard comes with advanced flight assistance features including:
built-in GPS records your aircraft's take-off point and position at all times
if you lose contact or lose control of the aircraft, it will automatically return home
upon takeoff, the aircraft hovers in place until you are ready to go
upon landing, the Phantom 3 Standard hovers in place until you are ready to receive it
Advanced Flight Modes
DJI recently announced that advanced flight modes and waypoint-directed GPS autopilot are NOW AVAILABLE for their Phantom 3 lineup. A simple software upgrade provides the following new features:
Specifications
Intelligent flight system
Integrated camera and gimbal
2.7K Ultra HD video (30fps)
12 MP photos
Live Video Feed (720p HD)
Flight time: 25 minutes
Range: 1 km
Intelligent Battery reminds when power is running low.
1 year warranty
24/7 technical support
Features We Like
Small size makes easy to transport
Built-in 2.7k camera with no fish-eye effect
DJI Go App lets you operate the camera and view live streaming through your smart phone or tablet
3-Axis gimbal provides pixel-grade stabilized video
Auto Take Off
Auto Return Home
Onboard GPS
Advanced Flight modes
SEE MORE REVIEWS ON AMAZON
Avid drone/UAV enthusiast for many years.
By day, I design websites and mobile apps.
Latest posts by Andrew Nixon (see all)