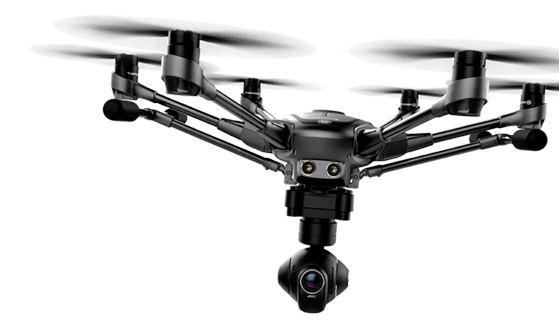 Typhoon H: Best Features
Excellent 4K video camera (30fps or 60fps in 1080p)
Dual-operator option (using ST Ground Station + 2nd controller or Wizard)
Hexacopter design means better redundancy + safety
Excellent ergonomic transmitter w/ built-in 7″ display and a great touchscreen interface; adjusting camera settings and controls is a snap
More stable and faster than the Typhoon Q500 quad
Not So Great
Slow startup time (1-2 minutes)
Somewhat limited range of 3000 feet / 1km
Video downlink is not as nice as Lightbridge used on DJI quads; range is limited due to 5.8GHz
Cannot ID + track objects, like the Phantom 4 can
You have to remember to put the landing gear down before landing – or use Return To Home
Battery recharging takes 2+ hours, twice as long as DJI's Phantom 4. Which means more spare batteries for you
Not the fastest platform; max speed is about 22 mph
Lights on the rear can be hard to see at a distance
Propellers will appear in the shot, if you're too aggressive
SEE THE LATEST PRICE ON AMAZON
---
Totally Yuneec
The competition between the leading Chinese drone manufacturing, DJI and Yuneec, is getting fierce.
Both companies offer a range of excellent ready-to-fly camera drones that are packed with technology and are priced reasonably for amateur and professional photographers and videographers.
Nipping at the heels of DJI's most advanced pro-am camera drone yet, the Phantom 4, in June 2016, Yuneec released the Typhoon H, a sophisticated flying camera that has several unique advantages over competing quadcopters.
I recently had my first opportunity to review Yuneec's latest "Phantom Killer"… so let's see how it compares.
---
Typhoon H vs. Phantom 4
The DJI Phantom 4 is the Typhoon H's closest competitor in terms of price and features.
Both drones are priced about the same, but the Phantom 4 differs from the Typhoon H in several important ways, including:
Phantom 4 Advantages over the Typhoon H
the Phantom 4 (P4) uses a better, longer-range live video downlink technology (Lightbridge)
the P4 batteries recharge 2X faster and include convenient built-in indicators
the P4 is a little faster and a bit more stable in high wind and ground turbulence
the P4 has superior object detection/tracking
Typhoon H Advantages over the Phantom 4
the Typhoon H is a 6-rotor design, which makes it more reliable in the case of a motor or prop loss and makes it safer for use over crowds
the Typhoon H's ST-16 controller doesn't require a separate phone or tablet. It is also more configurable and is easier to use
the Typhoon H has a full 360 degree unobstructed camera
the Typhoon H's landing gear retracts, making unobstructed shots easier
the Typhoon H takes longer to startup (1-2 mins)
Honestly, though, on features & price these two drones are very evenly matched. Camera quality is about the same, too.
If you need live video feeds beyond 1000 meters, then the Phantom 4 is your only choice.
If you want a safer, more configurable flying 4K camera, however, the Typhoon H is the better choice.
---
ST-16 Controller
The ST16 transmitter is an improvement over the one shipped w/ older Typhoons.
The included 7″ Android-based 720p display is larger and brighter and works in direct sunlight.
To fix the glare problem of earlier models, the ST-16 comes with a sun shade that works pretty well, although I'd suggest putting a towel over your head if you're at the beach or near the slopes.
The ST-16's user interface is excellent. I'd say it's as good or better than DJI's, very responsive and intuitive. You can control all flight parameters and camera/video settings easily using the touch screen.
I also appreciate the haptic feedback the unit provides, especially when the batteries are low. The unit vibrates in your hand, like an XBox controller. Very cool.
The really nice thing about the ST-16 is that the flight control settings can be tweaked easily, and you can save multiple profiles for a single aircraft, for example, Sporty/Aggressive and Soft. The Typhoon H comes with a couple of presets to start with.
And, yes, there's an HDMI output on the controller for use with FPV goggles, etc.
In this 20-minute video, Simon Newton of OnTheKitchenTable.com (outstanding resource) walks through just about every feature of the ST-16.

---
CGO3+ 4K Camera Gimbal
The Typhoon H comes equipped with an upgraded version of the CG03 integrated camera-gimbal. It takes high-quality, stable, 4K video, excellent 12 megapixel still images and can be rotated through an unlimited, 360° range of motion.
The CGO3+ gimbal camera has a 98° field of view, includes a wide-angle lens, and offers a ton of camera settings that can be adjusted via controller, while in flight.
Unfortunately, the images shot by the CG03 setup are not automatically geotagged.
360 Unobstructed Camera View
The Typhoon H automatically retracts its landing gear after takeoff, freeing the 4K orbit camera to shoot in full 360 degrees, unobstructed. Unlike most other drones this price range, this means the Typhoon H doesn't have to be maneuvered to get the gear out of the shot. Just pan the camera.
For operators used to flying and shooting, this feature may not seem that important. But a 360-degree camera makes cable-cam & waypoint-driven shoots a lot easier to plan and execute.
---
Improved Safety and Redundancy
The Typhoon H's 6-rotor design means (according to Yuneec) that it can lose one motor or one prop and still make it back home.
Not only does this mean you stand a better chance of not crashing & losing your investment, you may also avoid crashing into a crowd.
Real-Time Object Detection & Collision Avoidance
Out of the box, the Typhoon H comes with built-in front-facing sonar to assist with close-range object detection.
In addition, the platform can be upgraded with Intel Sense Technology 3D to take advantage of visual collision avoidance, a feature that the Phantom 4 comes with, out-of-the-box.
---
Automated Flight Modes
Like the Phantom 4, the Typhoon H comes with automated flight modes to take the hassle out of getting your flying camera into position for great shots – like this:

Journey
Journey mode is a simple automatic take off + selfie shot.
Orbit Me
Using Orbit Me, the Typhoon H will orbit the controller/operator in a wide circle, even if you're moving.
Point of Interest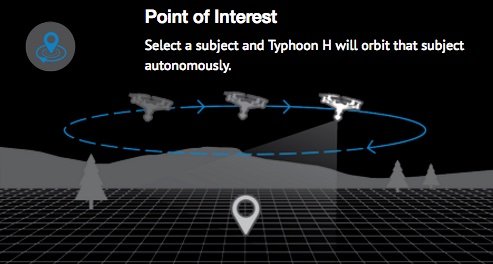 Orbit any GPS point you select. Note: this is not the same as the Phantom 4's Object Tracking feature, which lets you select an image in the viewfinder and follow it. Instead, with the Typhoon H, you must supply a GPS coordinate.
Curve Cable Cam (CCC)
This is probably the Typhoon H's best feature.
Using CCC mode, you can fly an imaginary cable line made of preset GPS coordinates & altitudes.
There's also a Reverse mode that lets you immediately turn around and run the same course, in reverse.
The shots are really smooth, and flying the line couldn't be easier.
Also, because the landing gear is up and out of the way, you don't need to worry about vehicle orientation, just operate the camera and shoot.
Follow Me / Watch Me
Return To Home
Team (2-Operator) Mode
This mode requires a second, smaller, special-purpose controller called the Wizard.
The holder of the Wizard flies the drone, while the main controller is used to operate the camera. The Wizard can also be used as a Follow-Me beacon, which the Typhoon H will automatically follow around. This is perfect for covering racers and outdoor action.
---
Video Walkthrough
The best video walkthrough of the Typhoon H I've found so far is from Drone Gear. If you've got 13 minutes to spare, it's worth your time.

SEE MORE REVIEWS ON AMAZON
---
Specifications
Carbon fiber construction
Wingspan: 410 mm /

16.1 inches

Weight: 1,850 grams /

4.1 pounds

Max Speed: Angle mode: 30mph 13.5m/s; Follow Me: 43.5mph 19.4m/s
Flight Time: 17-20 mins (mfr claims 25)
Operating Range: 1km
Live View: 720p at 30 frames per second over a 5.8 GHz channel (with HDMI mirrored output)
Video: 4K (3840 x 2160) at 24p, 25p, 30p
Still Photos: 12MP (not geotagged)
BUY IT NOW ON AMAZON
Avid drone/UAV enthusiast for many years.
By day, I design websites and mobile apps.
Latest posts by Andrew Nixon (see all)